COVID-19 Cardiovascular research theme
Profs Colin Berry and Stuart Nicklin are leading the COVID-Cardiovascular research theme in SCMH. All projects related to COVID-19 in SCMH should be discussed with Colin and Stu. This is to ensure that there is no duplication, and that high quality projects are developed.
Latest COVID-19 research in SCMH.
Review Article: COVID-19 and the Cardiovascular System: Implications for Risk Assessment, Diagnosis, and Treatment Options.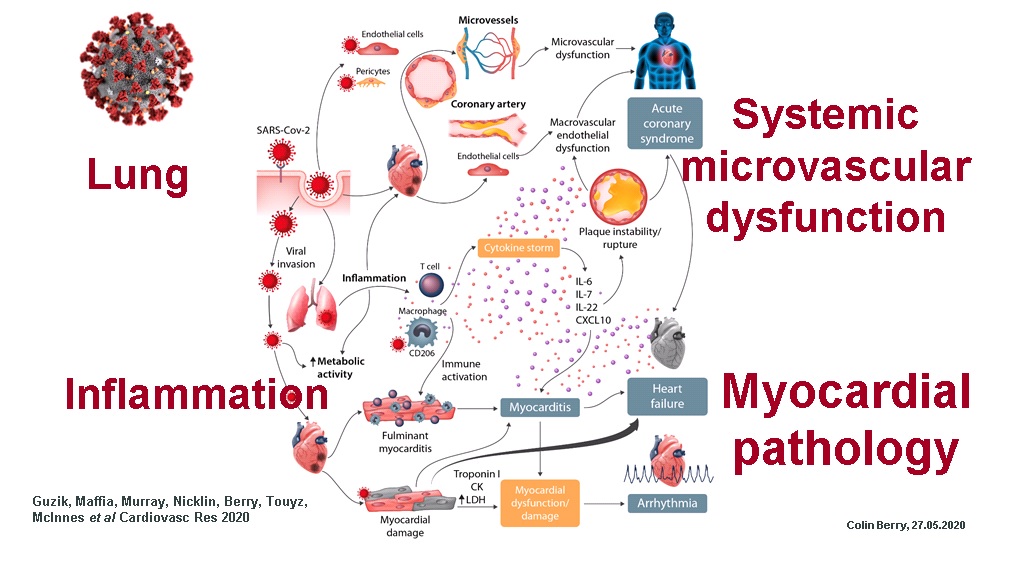 SCMH: Tomasz J Guzik, Stuart A Nicklin, Ryszard Nosalski, Eleanor C Murray, Colin Berry, Rhian M Touyz.
Other University of Glasgow: Iain B McInnes, Pasquale Maffia, David Bhella, Emma C Thomson.
External: Saidi A Mohiddin, Anthony Dimarco, Vimal Patel, Kostas Savvatis, Federica M Marelli-Berg, Meena S Madhur, Maciej Tomaszewski, Fulvio D'Acquisto, Ali J Marian, Bartlomiej Guzik, Reinhold Kreutz, Dao Wen Wang, Orlando Sagliocco, Filippo Crea.
You can read the full article here: Pubmed.ncbi.nlm.nih.gov
SCMH in Univertisy New: UofG SCIENTISTS FAST-TRACK RESEARCH INTO COVID-19 AND HEART DISEASE
University of Glasgow researchers funded by the British Heart Foundation (BHF) in Scotland are supporting global efforts to combat Covid-19 and better understand its wider effects on people with heart and circulatory diseases.
Professor Rhian Touyz and her team are investigating if patients with high blood pressure suffer more severely when infected with coronavirus and whether certain blood pressure drugs aggravate or improve infection. Their findings are especially important in Scotland where almost a third of adults have high blood pressure.
You can read the Full University News article here: University News Article
Recent Publications
Vitamin D concentrations and COVID-19 infection in UK Biobank.

SCMH: Naveed Sattar, Carlos A. Celis-Morales, Paul Welsh, Stuart R. Gray, Jason MR. Gill
Other University of Glasgow: Jill P. Pell, Claire E. Hastie, Daniel F. Mackay, Frederick Ho, Srinivasa Vittal Katikireddi, Claire L. Niedzwiedz, Bhautesh D. Jani, Frances S. Mair, Catherine A. O'Donnell.

Link to Paper here: www.pubmed.ncbi.nlm.nih.gov


Renin–Angiotensin–Aldosterone System Inhibitors in Patients with Covid-19.

SCMH: John J.V. McMurray,
External: Muthiah Vaduganathan, Orly Vardeny, Thomas Michel, Marc A. Pfeffer, Scott D. Solomon,

Link to Paper here: www.pubmed.ncbi.nlm.nih.gov


Obesity a Risk Factor for Severe COVID-19 Infection: Multiple Potential Mechanisms

SCMH: John J V McMurray, Naveed Sattar
Other University of Glasgow: Iain B McInnes

Link to Paper here: www.pubmed.ncbi.nlm.nih.go
---
First published: 3 June 2020