The Network for Early career Researcher Development (NERD)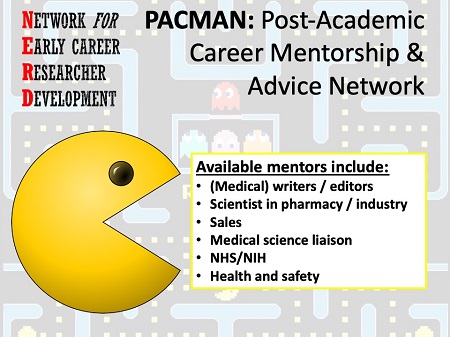 Network for Early Career Researchers Development (NERD) has recently launched the Post-Academic Career Mentorship & Advice Network (PACMAN).
Whether you're looking for advice about how to continue your career out of academia, or just curious about what working out of academia would be like, NERD can connect you with a mentor who has already made the switch from academia to careers such as pharmacy, medical science liaison or writing.
If you're interested in being paired up with someone doing the job of your dreams, you know anyone who might want to become a mentor or if you just want to stay updated on NERD events,
Please get in touch: cams-iii-nerd-committee@lists.cent.gla.ac.uk
or
follow NERD on twitter @iii_NERD
NERD has recently held two events including the PACMAN Launch event in April and a Mental Health Literacy event in May.
Find out more: NERD Newsletter article
---
First published: 2 June 2021