Staff attend City of Glasgow College Essential Skills Course
The Essential Skills course organised through the University of Glasgow Technician Commitment Group (provided by City of Glasgow College) consists of four half-day Zoom sessions covering presentation skills, developing personal resilience, building successful relationships, and positive psychology. The tailor made course is designed for technical staff from all over the University with funding from the Flexible Workforce Development Fund from the Scottish Government.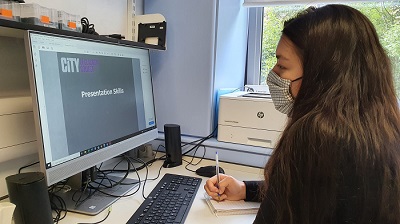 Ms Emma Dunning:
"I was recommended this course as part of my personal development, and I didn't expect to be as interested and engaged in the sessions as I was.
I was surprised to enjoy the topics 'Developing Personal Resilience', 'Building Successful Relationships', and 'Positive Psychology', as I wasn't sure that I would find them practically useful. However, I thought these were thought provoking and related not only to the workplace but to personal life as well.
The tutors provided self-assessment questionnaires to contextualise what was discussed in the sessions, and to help put in place an action plan to make small behavioural changes to help improve yourself, your relationships and your job/career. I also found the 'Presentation Skills' session useful- I do not like giving presentations! It went over many tips for creating and giving good presentations, and coping mechanisms for people who get nervous when presenting, like myself.
I would recommend this course to anyone- it was well organised and I thought that the content would be useful to people at any stage of their career, which was certainly reflected in the cohort that I was in."
If you're interested in this course, please contact Nicola Britton.
---
First published: 1 September 2021