Chancellor's Fund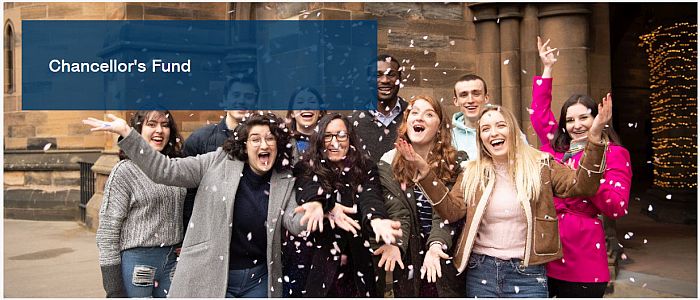 The Chancellor's Fund supports innovative, exciting projects that have an impact across the University and wider community.
Established in 1999, it has since funded over 550 projects from the generosity of our graduates and friends.
The Chancellor's Fund is open for applications for consideration by the Chancellor's Fund Advisory Board at its next meeting.
The Chancellor's Fund benefits from unrestricted gifts to the University and aims to:
• Support our students by helping to provide a rich and rewarding university experience.
• Enhance the learning environment by providing access to new technologies and enhanced facilities.
• Develop excellence by providing financial support for research and teaching and promoting academic developments.
• Preserve the University's heritage, enhancing the physical and cultural heritage of the University.

Due to the high number of applications now being submitted to the Chancellor's Fund, the Advisory Board is likely to give preference to applications where some funding has already been secured, preferably to a level where this would match any funding given by the Chancellor's Fund. The maximum grant made is unlikely to exceed £6-7,000.
If you or colleagues have a project that may benefit from support from the Fund, and be eligible, please complete an application form.
Please also see Guidelines to assist in determining whether your application is eligible.
---
First published: 24 July 2019