Cardiovascular Research at SCMH @ESC Congress 2022: The Magic of Cardiology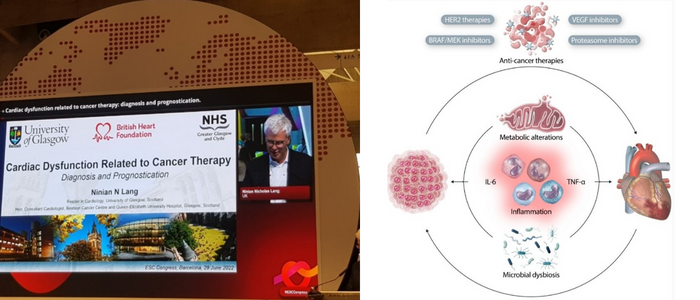 On the 70th anniversary of the first European Society of Cardiology (ESC) Congress, over 30,000 participants gathered both in Barcelona and online from around the world to share and celebrate the latest developments in cardiovascular research at the first hybrid ESC Congress and first in-person ESC Congress since 2019. As the leading basic and translational journal of the ESC Journals family, the top-cited papers published in Cardiovascular Research in 2022 were presented during the "Best of the ESC journal family" session, alongside the European Heart Journal and EuroIntervention. Cardiovascular Research also hosted an Official Joint Session to explore new frontiers of discovery in cardiovascular research. This session featured presentations including novel targeting of ion channels by Dr Constanze Schmidt, vessel wall remodelling with novel ncRNA by Prof Andy Baker, and novel neuroimmune targets in cardiovascular disease by Prof Giuseppe Lembo.
Cardiovascular Research articles published during the ESC Congress included a Spotlight Review article written by the University of Glasgow School of Cardiovascular & Metabolic Health (SCMH)'s Prof Ninian Lang titled "Mechanisms shared between cancer, heart failure, and targeted anti-cancer therapies", which will feature in Cardiovascular Research's upcoming Spotlight Issue on Heart Failure, lead by Guest Editors Prof John McMurray, Prof Carolyn Lam, and Prof Thomas Thum.
Cardiovascular Research also had the opportunity to meet with their international editorial team, including Executive Deputy Editors based at the SCMH, to hold the Journal's latest Editorial Board meeting, sharing the latest Journal updates and celebrating the Journal's considerable increase in impact factor to 14.242 as well as the great work of all Editors, Reviewers, Authors, and Advisers. Cardiovascular Research Editor-in-Chief Prof Tomasz Guzik also presented the 2022 winner of the ESC William Harvey Lecture in Basic Science, Prof Dr Christian Weber, and Cardiovascular Research's Senior Advising Editor Goran Hansson was a recipient of the ESC's highest award, the ESC Gold Medal. You can see more of the latest published research in Cardiovascular Research including how to submit your work and follow Cardiovascular Research on Twitter (@CVR_TomaszGuzik) for the Journal's latest developments and more ESC Congress coverage.
---
First published: 2 September 2022