Professor Colin Berry at SCMH @ESC Congress 2022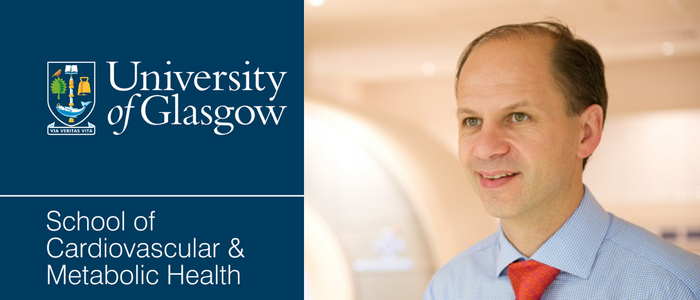 Comorbidity and medication use in patients with angina due to a coronary vasomotion disorder
H. Blundell1, P. Ambery2, M. Arnold3, E.Nyman2. Brookes-Smith3, S. Kiddle3, P J. Greasley2, C. Berry4-1University of Oxford, Oxford, United Kingdom, 2AstraZeneca, Gothenburg, Sweden, 3AstraZeneca, Cambridge, United Kingdom, 4University of Glasgow, Glasgow, United Kingdom
Professor Colin Berry presented results of the world's largest study of patients with angina due to coronary spasm. The work was undertaken using anonymised medical records available in a publicly accessible healthcare database and ICD-10 codes.The main findings were that of 12,200 patients identified with the ICD10 code for angina due to coronary spasm, 1 in 10 patients were readmitted to hospital within 1 year, and evidence-based medicines such as statins were only prescribed in half of the patients.
This work was undertake in collaboration with AstraZeneca and linked to the ongoing MRC-funded PRIZE clinical trial co-sponsored by the University of Glasgow and NHS Greater Glasgow and Clyde Health Board. Prof Berry had a number of other roles at the conference giving talks on ischaemic heart disease, including a Hotline Science session. He also contributed to the annual meeting of the COVADIS academic group.
Aim
To describe the proportions of patients with concomitant morbidity and related medication use in an international, contemporary, clinical database.
Methods
TriNetX, a federated health research network with access to anonymized electronical medical records (EMRs) from participating healthcare organizations including academic medical centres, specialty physician practices, and community hospitalsin the USA,was used. The ICD10 code (I20.1) representing 'Angina pectoris with documented spasm' was used as a primary search term. ICD10 codes were also used for cardiorenal and metabolic conditions, medication use was also analysed. The analysis population was defined as occurring between01.01.2017 –31.12.2019. The population age was ≥18 years.
Results
Data were available on 12,200 individuals (mean (SD) age 63 (13) years; 63% female). The % of individuals with a concomitant diagnosis is described in Table 1. Hypertension occurred in almost two thirds of individuals, anxiety disorder affected more than one quarter,and type 2 diabetes and/or obesity occurred in one fifth. Medication use is described in Table 2. Half of patients received a calcium channel blocker therapy. Nitroglycerin, beta-blockers, and isosorbide mononitrate were less commonly used (45%, 45% and 23%, respectively). Most patients (58%) were prescribed an antacid. Half of patients received statin treatment (50% overall; 36% atorvastatin). Insulin (12%) and metformin (9%) were the most commonly prescribed antidiabetic medication.
Conclusions
Angina associated with coronary spasm is found more frequently in females and those withcardio-metabolic risk factors. Contemporary pharmacotherapy for diabetes and statins appear to be under-used.
---
First published: 31 August 2022