Professor John Cleland at SCMH @ESC Congress 2022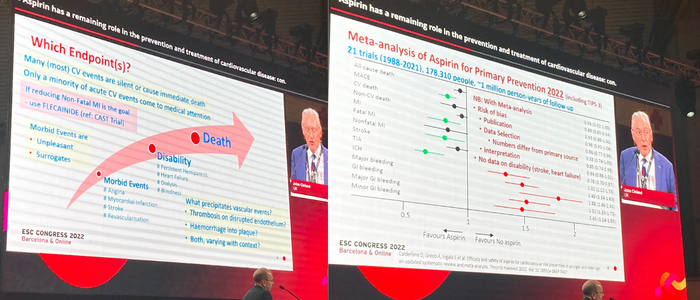 Professor John Cleland took part in the debate on 'Time to say goodbye to aspirin for cardiovascular disease ….' Large audience and a lot of cover on Twitter. In summary:
1. The importance of endpoints - many cardiovascular events are silent - so death and disability are the only reliable outcomes.
2. For primary prevention (ie people who have not yet had a stroke, heart attack or similar), medical recommendations have gone from saying aspirin should be given to aspirin should not be given. This is based primarily on new trials suggesting that aspirin does more harm than good but also appreciation of previous biased reporting.
3. For secondary prevention, there is strong evidence that a 4 week course of aspirin after a heart attack or stroke is beneficial. There is no evidence of benefit when continued beyond 12 weeks. It is still possible that longer term aspirin is effective but evidence is lacking and the effective dose is unknown.
It is shocking to learn that the reverence given to aspirin by doctors appears almost entirely misplaced.
---
First published: 30 August 2022