Glasgow was host to the BRAIN & BRAIN PET 2022
Glasgow was host to the BRAIN & BRAIN PET 2022 held at the SEC from 29th May – 1st June inclusive. The meeting was hugely successful with almost 600 on site delegates and 180 virtual attendees, numbers not dissimilar to pre-pandemic levels for this meeting. Colleagues within SCMH were heavily involved in the conference organisation with Dr Lorraine Work being one of the co-chairs of the local organising committee (LOC) along with Professor Stuart Allan (University of Manchester). Furthermore, Professor Jesse Dawson, Dr Josie Fullerton and Dr Alyson Miller all served on the LOC.
The school was well represented in terms of scientific content also with selected oral presentations from Dr Laura Dowsett and Dr Alex Riddell, both ECRS within SCMH; a flash poster presentation from Ms Gabbie Gerganova and poster presentations from Mr Zach Blaikie, Mr Arun Flynn, Dr Josie Fullerton and Ms Rebecca Rooney.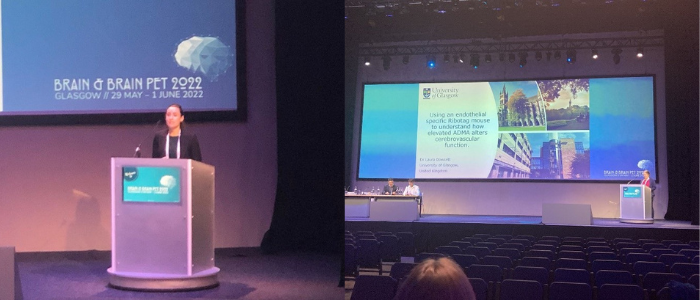 In addition, Dr Terry Quinn spoke in the Brain Health Scotland special symposium on "Clinical manifestations around small vessel disease". The scientific program for the meeting was excellent and included a Presidential Lecture from Professor Maiken Nedergaard, Rochester, USA and a Plenary Lecture from Professor Anna Planas, Barcelona, Spain. Delegates were treated to a piper as they arrived for the welcome reception – Ms Mara Lyon, a current MSc student (Precision Medicine and Pharmacological Innovation) at the University Of Glasgow and BSc (Hons) Pharmacology graduate. There was an Early Career Networking event which Dr Josie Fullerton contributed a great deal to the organisation and planning and with a full house of 200 attendees, was a resounding success. And then there was a dinner and ceilidh held in the Glasgow Science Centre on the last evening.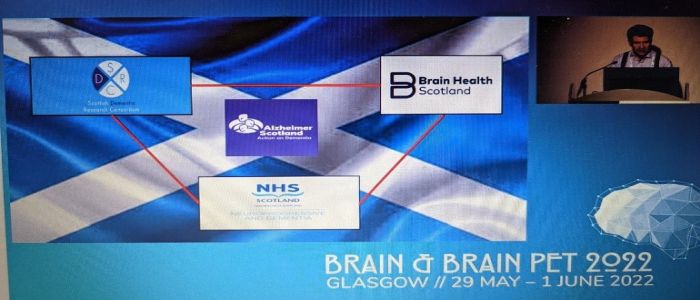 All in all, the meeting was really warmly received and all those attending were so positive about the opportunity to meet in person once again. The next BRAIN & BRAIN PET meeting will be held in Brisbane in June 2023.
---
First published: 21 June 2022