Congratulations to Tom Van Agtmael who is part of a successful bid
Tom Van Agtmael together with Prof. Colin Selman (BAHCM) were part of a successful bid for an EU Horizon DTN award; CHANGE: Cellular Homeostasis ANd AGing in Connective TissuE Disorders. €2,787,767.97. This 4 year European network of 7 academic and 5 commercial partners will recruit 12 PhD students to uncover molecular mechanisms underlying age-related decline focusing on cerebrovascular and musculoskeletal disorders by exploiting the power of genetic connective tissue diseases.
These debilitating disease are due to mutations in extracellular matrix components and are characterised by the early onset development of clinical features and pathologies characteristic of old age such as stroke and cerebrovascular disease, osteoarthritis, and muscle loss. Therefore investigating these rare genetic conditions can provide a window into disease mechanisms associated with old age. Moreover this program will explore the role of senescence in these genetic disease such as stroke and cerebral small vessel disease and its potential as a therapeutic target.
The overall indicative budget for the "HORIZON-MSCA-2021-DN-01" call is € 403 million. Below is the indicative timetable for this call: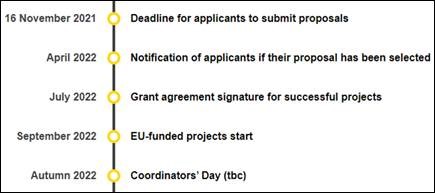 ---
First published: 10 June 2022