Congratulations Sarah Williams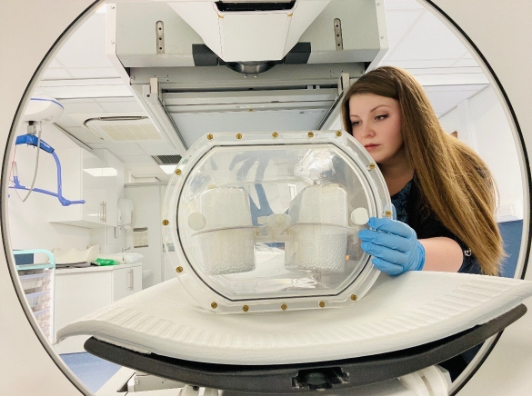 Sarah Williams a part-time PhD student within SCMH has recently interviewed and was successful in her application for the Chief Scientist Office, Clinical Academic Fellowship for an amount of £140617.
This is the first year the fellowship has been offered to healthcare scientists. On being awarded the fellowship, Sarah said
"I feel honoured to have been offered the CSO Clinical Academic Fellowship as it will provide me with support and security for the duration of my PhD."
"I hope to inspire and encourage other scientist working within the NHS who would, like myself, love the opportunity to carry out a PhD but require the support from a fellowship or grant"
"I am excited to discover the research and training opportunities that the fellowship will provide me with and I am so grateful to have this opportunity at such an early stage in my career".
Sarah started her PHD in January 2021 at the School of Cardiovascular and Metabolic Health. The research project is being carried out in collaboration with UofG and NHS GGC with supervisors, Dr Robert Lindsay and Dr Alison Bolster.
The main aim of this research is to investigate the use of quantification in Nuclear Medicine imaging for parathyroid imaging and infection imaging in patients with metal implants. Currently, these two patient groups undergo multiple imaging procedures for diagnosis and potentially invasive procedures to confirm disease. By improving the information provided by the Nuclear Medicine imaging early in the patient pathway, there is potential to reduce the number of hospital attendances and radiation exposure to these patients - improving their healthcare experience and reducing strain on NHS resources.
The Department of Nuclear Medicine, North-East Sector is ideally placed to assess these two key areas of nuclear medicine imaging where there is potential benefit from quantification and improving the patient's diagnostic report and healthcare experience.
---
First published: 17 February 2022