BHF CorMicA trial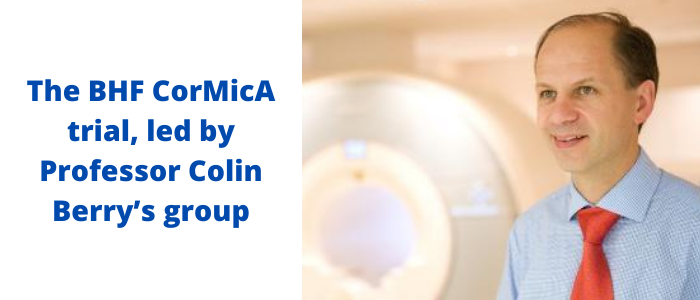 The BHF CorMicA trial, led by Professor Colin Berry's group, has triggered a IIA "Should be considered" recommendation in the new North American Chest pain practice guidelines.
This executive summary of the clinical practice guideline for the evaluation and diagnosis of chest pain provides recommendations and algorithms for clinicians to assess and diagnose chest pain in adult patients.
A comprehensive literature search was conducted from November 11, 2017, to May 1, 2020, encompassing studies, reviews, and other evidence conducted on human subjects that were published in English from PubMed, EMBASE, the Cochrane Collaboration, Agency for Healthcare Research and Quality reports, and other relevant databases. Additional relevant studies, published through April 2021, were also considered.
Read the full paper here https://www.ahajournals.org/doi/10.1161/CIR.0000000000001030 and here https://www.bhf.org.uk/what-we-do/our-research/impact-of-clinical-trials/cormica-trial
---
First published: 17 January 2022