MVLS Engagement Training & Opportunities
The MVLS Engagement team offer training designed to assist staff and students to develop their skills in public engagement. We also work with individuals and groups to help embed and expand a culture of public engagement across MVLS.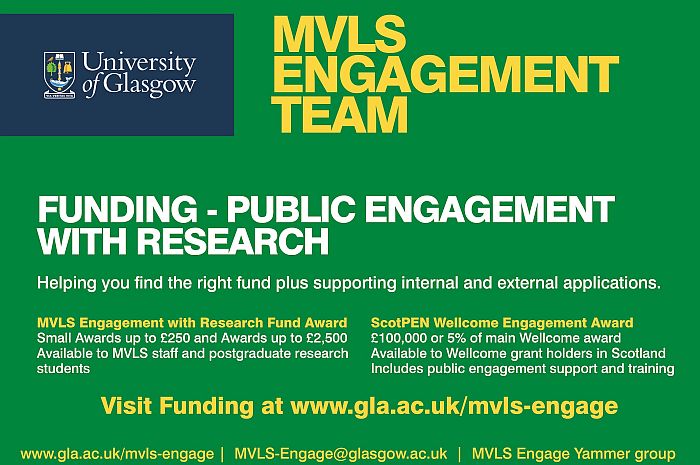 Training and Networking
Learn about "radical" citizen science and what it could mean for your research – All Welcome.
Event Opportunities Thursday 5 March 2020
Discover the range of exciting PE events across Glasgow that will help build your skills and experience.
Event Planning Thursday 2 April 2020
Guide to event planning and resources to help deliver successful engagement events.
Glasgow Science Festival Training Opportunity - Deadline 27 February
Want to gain some new engagement skills and be part of this year's award winning Glasgow Science Festival?
Glasgow Science Festival in Action offers training resulting in an exciting opportunity to collaborate, create and deliver a STEM event for families, in partnership with the Botanic Gardens. Applicants must commit to training events from March to June 2020. 16 places for MVLS PhD students available through a competitive application process.
Deadline for applications is 27 February 2020. Visit: GSF in Action
Free course created by University of Glasgow - join the global cohort and Twitter discussion #flresearchimpact
Engagement opportunities
Taster Week for Schools seeking presenters
The Three Minute Thesis competition - Registration closes Friday 21 February 2020.
As part of the Widening Participation (WP) activities held at the University, these Taster sessions are designed to give S4 & S5 students an idea of University life and the exciting subjects on offer. The WP team are seeking those able to offer science based activities (1 hr presentations for ~50 students and 3hr workshops ~25 students) for Taster Weeks commencing 1st and 8th June 2020. These popular events are for Glasgow school children considering university and offers an excellent opportunity for you to engage with youngsters as part of a structured and managed event. Sessions are remunerated at ~£50 per hour.
Contact: Victoria Blades, Coordinator - Victoria.blades@glasgow.ac.uk
Research students are challenged to present their research to a non-specialist audience with opportunities to practice their public engagement skills. If interested in participating or joining the audience for the heats and/or final, you can find more information, including videos of previous entrants and how to register, on the 3MT 2020 webpage.
Famelab - Applications close Thursday 27 February 2020
MVLS Engagement with Research Fund – supporting researchers to put public engagement ideas into practice we offer awards of up to £2,500 and applications are invited until 31 July 2020.
Interested in taking part in this annual science Communication competition? Full details at: https://www.cheltenhamfestivals.com/science/famelab/famelab-uk/
Check out our past MVLS finalists https://www.gla.ac.uk/schools/infectionimmunity/newsevents/headline_574741_en.html
Public Engagement Funding
The MVLS Engagement team is pleased to offer advice and support on all internal and external engagement funding applications. – see attached advert
---
First published: 17 February 2020