Winners of national student competition to reimagine a 21st century Adam Smith announced
Published: 8 June 2023
The winners of a national student competition to present Adam Smith's ideas for a 21st century audience have been announced.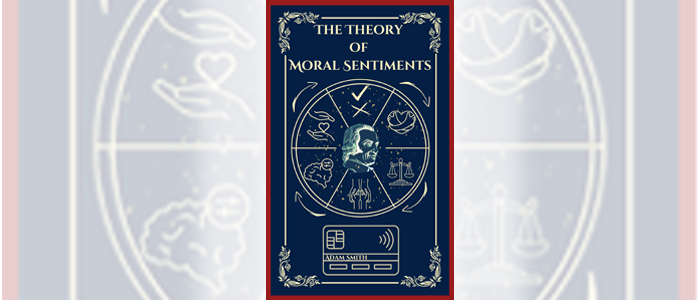 The winners of a national student competition to present Adam Smith's ideas for a 21st century audience have been announced.
'Rethinking Adam Smith' challenged students to redesign the front cover of Adam Smith's The Wealth of Nations or The Theory of Moral Sentiments.
The competition, which was open to all UK students, was run by the Economics Observatory in partnership with the University of Glasgow's Adam Smith Business School. It is part of the University's Adam Smith tercentenary year, with events and activities taking place to mark the famous Scot's 300th birthday.
Students were also asked to provide a written essay explaining their ideas and creative process.
Entries were received from students across the country, representing a broad variety of disciplines and backgrounds.
The top three winners have been announced as Chizulum Ifezulike, University of Strathclyde; Lucille Ling, University of Glasgow; and Ishita Kashyap, University of Leeds.
As well as national winners, there was a Best of Glasgow Category, awarding students at the University of Glasgow who entered.
Winner Chizulum Ifezulike said: "This competition sparked my passion for purposeful design rooted in Adam Smith's timeless concepts. It provided an immersive and transformative experience as it enabled me to bring my creativity into a unique, timeless design that captures the essence of Smith's ideas."
The Best of Glasgow winner, Rhea Ajit John, said: "I'm passionate about illustration and design. I incorporated modern and classic elements into my illustrations."
The final judging panel comprised of the University of Glasgow's Professor Sara Carter (Vice-Principal and Head of the College of Social Sciences), Professor Graeme Roy (Dean of External Engagement and Deputy Head of the College of Social Sciences) and Ashley Lait, Research Editor at the Economics Observatory.
Winners took home cash prizes, vouchers and Adam Smith merchandise.
Professor Sara Carter said: "The winners took a very imaginative approach to their cover designs, producing original artwork and essays explaining their designs that showed a deep appreciation of Adam Smith's work and its relevance to some of the global challenges facing the modern world."
Professor Graeme Roy said: "I found it difficult to choose the winning entries as the overall quality was hugely impressive. I was also struck by the rich diversity of entrants, including amongst the winners. But all of them added a nice modern twist to Smith's writings helping to fast forward his ideas into the 21st century."
Economics Observatory Research Editor, Ashley Lait said: "We received so many great entries for the competition, which made judging enjoyable but also difficult. The winning designs and their accompanying essays brought Smith's ideas up to date for the 21st century in novel ways, integrating modern challenges posed by climate change, artificial intelligence and the division of labour in a globalised economy. Congratulations to the winners!"
National Competition Winners
1st place: Chizulum Ifezulike, University of Strathclyde, Economics/Business School Department
2nd place: Lucille Ling, University of Glasgow, Humanities and School of Culture and Creative Arts
3rd place: Ishita Kashyap, University of Leeds Business School
Commendations
Zainab Alani, University of Glasgow, College of Medicine, Veterinary and Life Sciences
Archie Clark, Heriot Watt, Edinburgh Business School
Bridgette Crawford, University of Glasgow, School of Engineering
Josh Connor, University of Stirling Management School
Jiaxin Shi, University College London, Department of Economics
Best of Glasgow winners
1st place: Rhea Ajit John, University of Glasgow, Computing Science
2nd place: Summer Fulbright, University of Glasgow, School of Humanities
Bets of Glasgow runners-up
Lucille Ling, Humanities and School of Culture and Creative Arts
Cameron Hanna, School of Law
Harshika Singh, College of Medicine, Veterinary and Life Sciences
Aayushi Sharma, School of Social and Political Sciences
Xu Lu, School of Social and Political Sciences
Zainab Alani, College of Medicine, Veterinary and Life Sciences
Francesca Sophia Munoz Capara, Adam Smith Business School
Bridgette Crawford, School of Engineering
---
First published: 8 June 2023