Professor Eleanor Shaw announced as new Head of Adam Smith Business School
Published: 31 May 2023
Professor Eleanor Shaw announced as new Head of Adam Smith Business School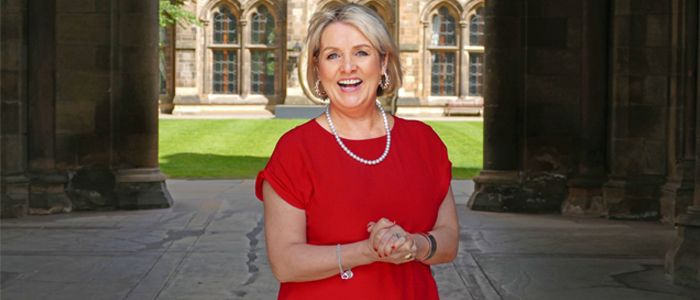 Professor Eleanor Shaw has been appointed as the new Head of the University of Glasgow Adam Smith Business School.
Professor Shaw will start her role on 7 August, and joins the University of Glasgow from Strathclyde University where she is an Associate Principal.
An entrepreneurial leader with more than 25 years' of experience working with entrepreneurs, her entrepreneurship research has informed the design and delivery of entrepreneurial education, influenced entrepreneurial policy, and guided the development of successful growth interventions which have supported the scale up of numerous Scottish ventures. She was awarded an OBE in 2022 in recognition of her services to entrepreneurship and education.
Professor Shaw is a senior leader within the Higher Education sector and is passionate about using her knowledge, expertise, and networks to unlock entrepreneurial potential across Scotland's economy. She holds an MA and a PhD from the University of Glasgow.
She currently sits on the Executive Team of the University of Strathclyde and on the boards of the Beatson Cancer Charity, Enable Scotland, the Chartered Association of Business Schools and the Small Business Charter. She also sits on the People, Talent & Leadership Committee of the ScaleUp Institute and the STER Academic Advisory Group.
Her research on entrepreneurial growth, ecosystems and diversity has attracted funding of more than £300M from Research Councils, private sector, Enterprise Agencies, and international partners.
Professor Eleanor Shaw said: 'I am delighted to be joining the Adam Smith Business School. It would be exciting at any time and is particularly so during this year of Tercentenary celebrations in honour of Adam Smith's life, work and influence. As a double graduate of the University of Glasgow I am looking forward to coming 'home', to connecting with familiar people, and getting to know new colleagues, and to building on the great work achieved by the School under the leadership of Professor John Finch.
"To be part of a world changing university committed to ambition and excellence, curiosity and discovery, integrity and truth, and to creating an inclusive community within which world changing ideas, innovations and learning can thrive, is exciting.
"I look forward to collaborating with colleagues across the School, College of Social Sciences, and the University more broadly and to the collective contributions we can make to a better future through excellence in scholarship, research, and engagement with local, national, and international communities."
Talking about the legacy of the outgoing Head of School, Professor John Finch, Professor Sara Carter, Vice-Principal and Head of the College of Social Sciences said: "Professor John Finch has provided outstanding leadership to the Adam Smith Business School for over seven years. Our Triple Accredited Business School has grown significantly over this period and its international reputation for the highest quality and relevant research was confirmed by the School's magnificent performance in the REF 2021.
The School's performance is increasingly recognised in international league table rankings and by global accreditation bodies. John has built a strong foundation that will support the School over the coming year as it marks the tercentenary of Adam Smith and prepares to move into its new purpose-built building later this summer."
On the Business School's new appointment, Professor Sir Anton Muscatelli, Principal and Vice-Chancellor of the University of Glasgow said: "I am delighted to welcome Professor Eleanor Shaw to the University as the new Head of the Adam Smith Business School. I know she will bring a wealth of experience and knowledge to this role, particularly in fostering entrepreneurship and creating opportunities for our students and colleagues to work together with industry.
Professor Shaw joins the University at a very exciting time for the School as we continue with our Adam Smith Tercentenary programme and as the School continues to improve its standing in the world rankings. We will also shortly look forward to the completion of our new Adam Smith Business School and PGT Hub, currently under construction as part of our significant campus development.
I wish Professor Shaw well as she takes up her position at the University and look forward to working with her in the months ahead."
University of Glasgow Adam Smith Business School is one of an elite group of Triple Accredited Business Schools placing it among the top business schools worldwide.
---
Clairelouise.smith@glasgow.ac.uk
First published: 31 May 2023