Tercentenary tartan launched to honour pioneering Scot Adam Smith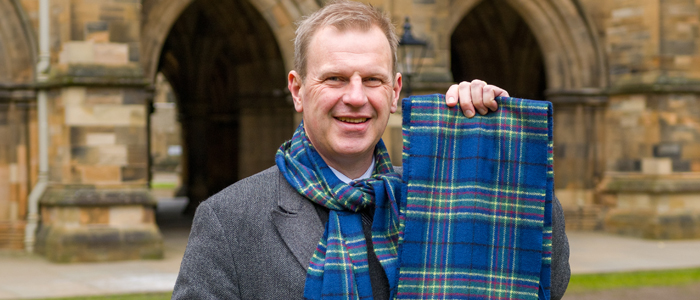 To honour the tercentenary of pioneering economist and Scot Adam Smith, a new tartan has been designed by the University of Glasgow Adam Smith Business School.
Its main thread is University blue to represent the Firth of Forth, where Smith would have watched ships coming and going to the rest of the world.
Subtle hints of green mark Smith's time in Glasgow, and yellow represents the Kirkcaldy High badge, where Smith attended School. A check of burgundy from the University's brand colours ties it together.
Smith is one of the University of Glasgow's most famous alumni and known as the Father of Economics. At the age of 14 he studied at the University, later returning as a Professor of Logic, then becoming Professor of Moral Philosophy.
Adam Smith remembered his time at the University of Glasgow as: "By far the most useful and therefore as by far the happiest and most honourable period of my life."
While at Glasgow, Smith published the first edition of The Theory of Moral Sentiments in 1759, developing upon the principles and concepts explored in his lectures. 

Smith's final connection with the University came in 1787 when he assumed the position of Rector.
Head of Adam Smith Business School Professor John Finch said: "We are incredibly proud of our connection with Adam Smith. His studies and writings introduced ideas, insights and concepts that were revolutionary in their day and shaped our understanding of economics in today's world.  
We've designed a Business School tartan to commemorate his life, work and the impact he is continuing to have in the world 300 years on from his birth. It's a fitting tribute to our most famous alumn."
The design
The tartan is recognised in the Scottish Register of Tartans. It has been woven into a brushed lambswool scarf at Lochcarron in Selkirk in the Scottish Borders, and is available from the University of Glasgow gift shop.
Hear from our graphic designer, James Murray, as he talks through the design process.
Adam Smith tartan - the design
---
Clairelouise.smith@glasgow.ac.uk
First published: 6 April 2023