Business School's green fintech COP 26 legacy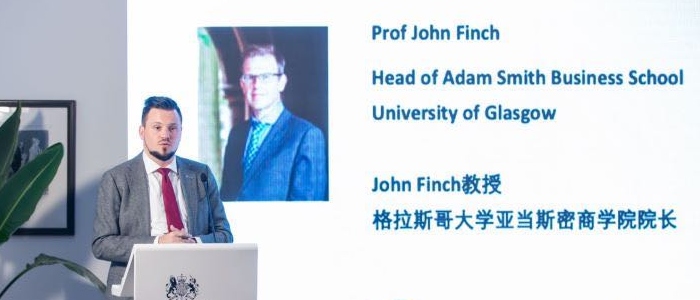 Professor John Finch, Head of Adam Smith Business School, delivered a keynote speech at the International Green Fintech Seminar: Towards a Carbon Neutral Goal in Beijing. His presentation was on The UK Experience: Green Fintech Development, Industry Application and Innovation.
John was invited by the UK Department for International Trade in Beijing to give this talk, on the back of Glasgow hosting the successful UN Climate Change Conference COP26.
The Business School has developed several strategic partners in China with the aim of deepening and strengthening relations in the region.
The School runs a successful MSc Fintech programme, is a strategic partner of Fintech Scotland and part of the fintech ecosystem in Scotland and is a catalyst for knowledge exchange in fintech.
The Beijing Seminar facilitated conversations between market players, academics and policy-makers, shedding new light on how green and climate fintech can better assist the transition to the 30/60 goals and achieve the goals of COP26. The outputs of this event will shape the formation of policy recommendation to China's central bank.
This event enabled the school to raise its profile and influence with key policy makers and market players in China as part of the global green transition. The participation at the event demonstrated school's continued commitment in the global sustainability agenda post COP26.
---
Enquiries: clairelouise.smith@glasgow.ac.uk
First published: 3 December 2021