Leading Glasgow Economist elected to Fellowship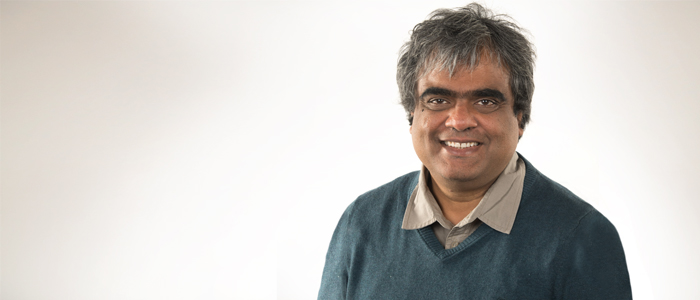 Professor Sayantan Ghosal of the Adam Smith Business School been elected as a Fellow of the Academy of Social Sciences.
Professor Ghosal is one of 75 leading figures announced as new Fellows by the Academy in recognition of their exceptional contributions to the field of social science.
Over the course of his career, Professor Ghosal has gained widespread recognition for his research in economic theory and its applications. He has written pioneering papers on behavioural poverty traps and bounded rationality and on the strategic foundations of general equilibrium. He has held several UKRI research grants, has supervised over 25 PhD students, served as a member of the ESRC Strategic Advisory Network and as a board member of the Campaign for Social Sciences in Scotland (which lead to the creation the SPIRE initiative hosted by the Scottish Parliament). He has engaged with policy makers in the UK and Scottish Government, the Govt. of West Bengal, the World Bank and NGOs and activists in West Bengal, Vietnam and Malawi.
Professor Ghosal said: "I am delighted to be elected as a Fellow of the Academy of Social Sciences. I look forward to supporting the Academy in its vital work to champion the role of social sciences in empowering and enriching lives as well as supporting evidence based change for the common good globally."
Will Hutton, FAcSS, President of the Academy of Social Sciences, said: "As the Academy extends its outward-facing focus, engagement with all sectors of the social science community is vitally important and I very much hope to draw on the deep knowledge and expertise of our new Fellows."
The Fellowship follows Professor Ghosal's appointment as Adam Smith Chair in Political Economy at the Adam Smith Business School. He established the Applied Economic Cluster in the Adam Smith Business School (where he serves as the current cluster lead) and co-leads the Interdisciplinary Research Theme Addressing Inequalities and the LMIC Research Network in the College of Social Sciences. He is an Academic Ambassador for the Addressing Inequalities Research Beacon and a research associate in International Development in the Advanced Research Centre at the University of Glasgow. He is a Fellow of the Royal Society of Arts.
The Academy of Social Sciences the national academy of academics, practitioners and learned societies in social science comprising over 90,000 social scientists. It has nearly 1500 fellows. It is the sector's leading independent voice in the UK and champions the vital role social sciences play in education, government and business. A key initiative of the Academy is the Campaign for Social Science which demonstrates how social science improves public policy, society and all human lives. It highlights the value of applied social science research and advocates for its greater use in decision-making and in government.
---
Enquiries: Clairelouise.smith@glasgow.ac.uk
First published: 5 October 2021