School joins new coalition to decarbonise Europe's food system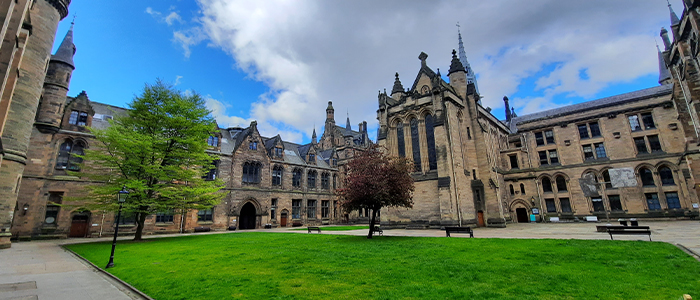 University of Glasgow Adam Smith Business School has joined forces with partners including Bayer, World Economic Forum and EIT Food (European Institute of Innovation and Technology) to help accelerate progress towards European Green Deal carbon neutrality goals.
As part of the work to decarbonise the European food system, the organisations and stakeholders involved, who represent every step of the food value chain, also aim to maximize other benefits such as soil health and farmer resilience.
The initiative to form the European Carbon+ Farming Coalition was catalyzed by the World Economic Forum's CEO Action Group for the European Green Deal and is part of the emerging food and nature platform, 100 Million Farmers: Transitioning towards Net-Zero, Nature-Positive Food Systems.
Agriculture in Europe is today responsible for 10 percent of greenhouse gas (GHG) emissions and a transformation of the sector could be a sizeable contributor to Europe's net-zero emission plan and will require ambitious collaboration along the entire value chain and alignment across European countries.
Earlier this year at the Boosting Europe's Green Transition session during the Davos Agenda Week, members of the Forum's CEO Action Group for the European Green Deal first announced the concept of a coalition to deliver on the European Green Deal.
The 'Carbon+ Farming Journey' project, will take a farmer-centric approach with partners focused on increasing the uptake of regenerative and climate-smart agriculture practices, identifying the roadblocks to adoption, designing solutions with economic, practical and ecological benefits to farmers. It also will work to develop financial tools to empower farmers in managing transition risk and recommend the right set of farmer incentives.
The world's soils are the second largest carbon sink, second only to oceans. There is strong scientific evidence that on-farm technology coupled with the widespread adoption of regenerative and climate-smart agriculture practices – such as no-till, cover crop and nutrient and manure management – can reduce GHG emissions through avoidance and sequestration, while improving agriculture's significant impact on nature. To implement this transition at a broad scale, the agricultural and corresponding food systems must develop a set of recognized, science-driven, technically relevant practices and solutions to meet climate neutrality objectives for the European Green Deal.
Professor John W Crawford, of Adam Smith Business School is leading on systems modelling for the project. He said: ''The University of Glasgow Adam Smith Business School is pleased to contribute to this business-led initiative to reduce the environmental footprint of our food system. We believe that it is important that policy and business are properly informed by the best available independent science as the world transforms to a de-carbonised economy. The Adam Smith Business School is working with the UN and a large number of global corporates to develop new ways of upscaling impact and ensuring that solutions to the climate and environment crisis are delivered on time. As well as science and technology, we are helping develop new models for good governance and transparency that are essential to build trust in the process which, in turn, is critical to successful outcomes.''
---
Enquiries: Clairelouise.smith@glasgow.ac.uk
First published: 6 May 2021