Celtic FC Foundation lecture engages students with real life data and decision making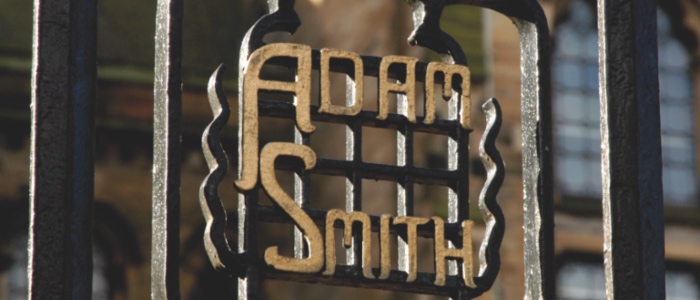 Second year undergraduates studying Business Decision Analysis received an online lecture delivered by CEO Tony Hamilton of Celtic FC Foundation, followed by a Q and A session 'live' from Celtic Park. Students put their questions to Tony to find out more about how the organisation makes decisions using both qualitative and quantitative data to meet the challenges it faces in the charity and global footballing environment.
The lecture was organised by Dr Peter Keenan in response to student feedback which highlighted that students engaged better with decision and data analysis concepts when introduced to real-life contemporary organisations, and where industry practitioners can directly explain to students their business problems and decision-making practices. This joint industry-university approach enables students to learn how to recognise business problems in context, the scope of inquiry to manage these problems, and how to apply qualitative and quantitative data analysis to solve them.
As a corporate partner of the Adam Smith Business School, Celtic FC Foundation makes decisions that exemplify the Business Decision Analysis course philosophy with its 'Football for Good Fund', as business problems and decisions are taken with those who are most in need in mind.
UG student Colette Clements said: "I found the Q&A session very valuable from an industry perspective, especially for the fact that Celtic FC Foundation is a charity which runs under different rules and regulations to a regular PLC business. Tony went into depth on how this affected the Foundation's business decisions not only limited to the UK but in other countries in which they operate their charitable work. I was able to engage my learning from the course and textbook and combine it with Tony's comments on the Foundation's decision-making processes. Especially that Celtic FC Foundation is a charity which runs under different rules and regulations to a regular PLC business."
The Foundation's aims closely reflect the UN's Sustainable Development Goals and how the School has committed to promoting sustainability and responsible management in its teaching, research and practice as an advanced signatory of PRME - the United Nations 'Principles for Responsible Management Education'. In doing so, the School has made a powerful commitment to advancing values such as sustainability, responsibility and ethics in teaching, research and thought leadership under the guidance of Professor Kat Riach.
Through learning Business Decision Analysis by embracing PRME, the School is providing students with the skills, knowledge, and inspiration to change the world for the better and continue Adam Smith's legacy creating world changing graduates who make a positive impact on culture and society.
Tony Hamilton, Chief Executive Celtic FC Foundation said: "I was keen to participate in this initiative and to have a corporate connection with the Business School because learning is reciprocal and I wanted to understand what I do from a theoretical perspective, while the students had an insight into implementation in practice.
"I was very impressed by the depth of the students' knowledge and the questions that were posed to me suggest that they had understood the dynamic between theory and practice and thought this through. I hope we can do more of this in the future."
---
Enquiries Clairelouise.smith@glasgow.ac.uk
First published: 26 March 2021