Beta Gamma Sigma achieves highest distinction
Issued: Mon, 14 Sep 2020 12:38:00 BST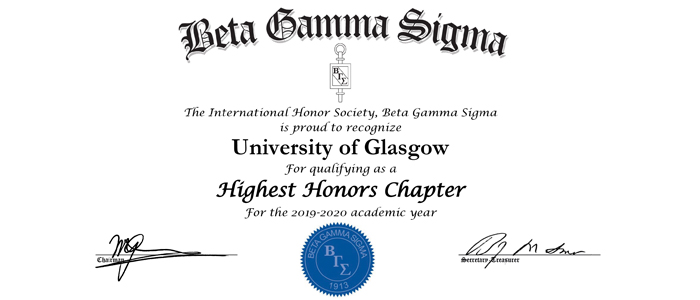 The Beta Gamma Sigma Chapter at Adam Smith Business School has qualified for Highest Honors Roll for the 2019-2020 academic year. This is the highest distinction possible for a BGS Chapter.
This status recognises a campus where academic excellence is valued and where faculty officers of the chapter work diligently to enhance Beta Gamma Sigma's (BGS) stature.
The School's student officers organised several events and giving back initiatives for BGS members throughout the year. These aimed to help students have a healthy work life balance, develop leadership skills and build a culture that gives back to society.
University of Glasgow Adam Smith Business School is one of the few UK universities who has a Beta Gamma Sigma chapter. The BGS Collegiate Chapter enables the Business School to work more closely with AACSB to enhance its student and alumni experience.
Of the thousands of students that complete their business degree, only the best qualify for membership in the Beta Gamma Sigma Society.
---
Enquiries Clairelouise.smith@glasgow.ac.uk