China Alumni Association program achieves gold award
Issued: Tue, 16 Jun 2020 14:14:00 BST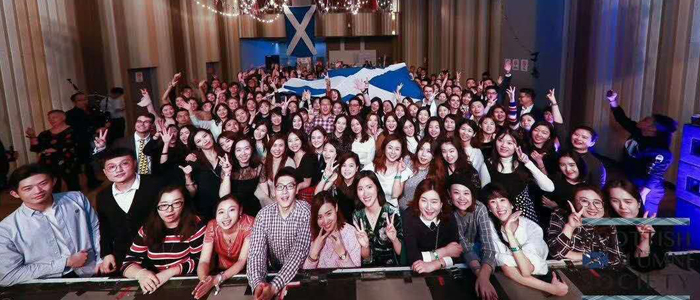 Adam Smith Business School alumni relations team has won a Gold Circle of Excellence CASE Award for leading the China Alumni Association (AA) Program.
The School alumni team has led this collaboration between the School, the Development and Alumni Office and our alumni associations for the past five years.
It is the University of Glasgow's first five-year alumni program that targets a specific demographic. Since it started in 2014:
12 active AAs have been established, covering one third of the geographical areas of China serving 77% of alumni in contact
81 local AA events have taken place with 8,623 alumni visitations
alumni volunteers increased by 1,786% from 48.
The program encourages the development and involvement of active local AA's physical and online communities, using a multiple touch point approach including a flexible board member structure, a peer support group, innovative events on the UofG campus involving AA members, targeted social media and partnerships with staff across directories.
The program weaves through the complete student-alumni life cycle and creates impact on enhanced alumni and student experience.
Judges commented: "The numbers of engagement and increased participation are amazing. A comprehensive program, incredible growth of the Alumni Association program in China over the course of five years, and increase in Chinese alumni by 1000 more individuals each year. This level of engagement is remarkable."
The Council for Advancement and Support of Education (CASE) is the global non-profit association dedicated to educational advancement - alumni relations, communications, development, marketing, and advancement services - who share the goal of championing education to transform lives and society.
Professor John Finch, Head of the Adam Smith Business School, said: "The award is testament to a partnership between our world-leading alumni services and the Adam Smith Business School, developing a new way of working that we have extended to alumni from other programmes and schools across the University. It showcases expertise that places us in good company internationally with leading business schools. Further, the model is sustainable, including further growth and development with our alumni. The CASE Award also celebrates the many contributions of our alumni associations. These are acquiring the status of institutions, with established leadership and memberships that have shared the development of alumni more and more ambitious projects and programmes. As dynamic organisations associated with the School and University, the alumni associations themselves continue to grow and prosper under alumni team's careful stewardship."
---
Enquiries: clairelouise.smith@glasgow.ac.uk