Business School joins Productivity Institute to help boost UK growth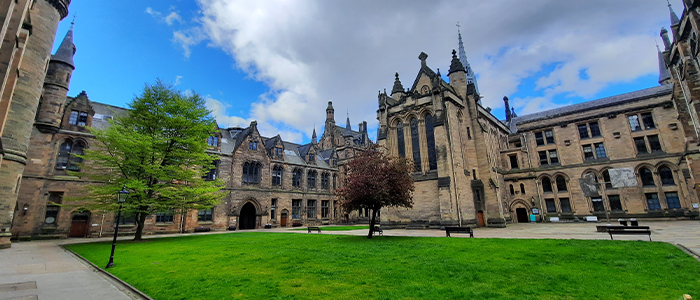 University of Glasgow is helping to solve the UK's productivity puzzle which could mean better jobs and higher living standards, by contributing to a new £32m research institute.
The Productivity Institute will advance knowledge and ensure it informs the significant decisions by governments and business leaders that can increase productivity.
Economic and business experts from the University of Glasgow Adam Smith Business School, will join forces with leading experts from a range of disciplines and backgrounds across the UK, to work directly with policymakers and businesses to better understand, measure, and enable improvements in productivity across the UK.
Professor of Economics, John Tsoukalas, who is leading Glasgow's contribution to the project said: "Glasgow will lead and develop the research and impact agenda of the Institute in Scotland including the formation of a Productivity Forum for Scotland. Our goal is to shape and promote an inclusive and sustained growth agenda. It will catalyse the co-development of research projects with stakeholders from the policy making and business communities to enable a truly transformational action model that maps research findings into innovative approaches, and policy interventions that boost productivity and bring prosperity gains across the economy, whilst reducing inequalities.
"Researchers from the Adam Smith Business School will undertake ambitious research projects that seek to understand the drivers of productivity in the UK, and Scotland in particular, and our work will respond and address the new economic challenges brought about by the Covid pandemic."
The new £32m Productivity Institute is being funded by £26m from the Economic and Social Research Council (ESRC) as part of its largest single investment into social sciences research, and £6m from nine partner institutions for five years, from 1 September 2020.
The Productivity Institute will be headquartered at Alliance Manchester Business School at the University of Manchester, and in addition to University of Glasgow, includes seven other partner institutions across the country: University of Sheffield, University of Cambridge, King's College London, Queen's University Belfast, Cardiff University, University of Warwick, and the National Institute of Economic and Social Research.
It will lead to a step-change in the quality and quantity of research available in the UK that will directly inform government policy to improve UK productivity.
UK Science Minister Amanda Solloway said:"Improving productivity is central to driving forward our long-term economic recovery and ensuring that we level up wages and living standards across every part of the UK."
ESRC's Executive Chair, Professor Jennifer Rubin, said: "Together this funding represents the largest economic and social research investment ever in the UK, befitting its enormous potential to improve lives for millions of people."
The Institute will develop its research agenda and practical business interventions through a programme of regional engagement with policymakers and business leaders from firms of all sizes as well as bodies like HM Treasury,
Department for Business, Energy & Industrial Strategy(BEIS) and the Confederation of Business Industry (CBI).
It will create eight Regional Productivity Forums across the country to work with these businesses and policy makers on critical productivity issues in the regional context; and it will form a national Policy Reform Group to work with policy makers on productivity aspects of nation-wide policies.
The Institute's goal is to make long-term policy recommendations that help to improve the UK's productivity, which is lower than in the US, Ireland, France, Germany and Spain, according to the Organisation for Economic Co-operation and Development.
ESRC is part of UK Research and Innovation, which is principally funded by the Department for Business, Energy & Industrial Strategy (BEIS).
---
Enquiries: clairelouise.smith@glasgow.ac.uk
First published: 20 August 2020