Willo, Glasgow based video interviewing platform wins £630K investment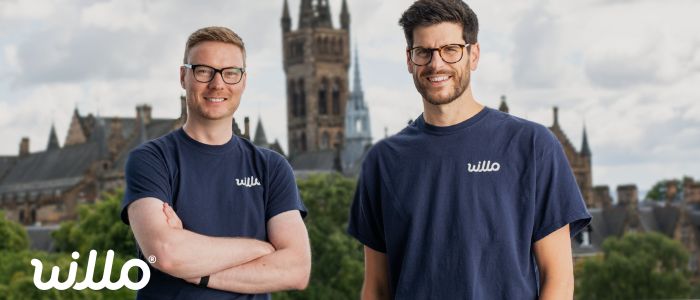 Congratulations to Business School alumnus Euan Cameron, (MA Business & Management 2010) Founder and CEO of tech start-up Willo, a rapidly growing video interviewing platform, which has received a £630,000 investment to accelerate its growth in key markets, including the USA.
Willo, which counts Chick-fil-A, Samsung, the University of Pennsylvania, and ABM amongst its global client list, was created on the principle that talent can come from anywhere, with the best people for businesses not bound by geographical location.
The cash injection from investors including ex Freeserve PLC COO Mark Danby, ex BT talent chief Susan McRoberts, and Santander Global Head of Digital Mobility Solutions Jose Ignacio Puente, takes the overall investment in the Glasgow founded tech firm to more than £1 million.
This round has been led by early-stage tech investment firm 1818 Venture Capital, which also invested in Willo's previous round. Marc Cohen, Partner at 1818 Venture Capital, will now join the company's board. He said: "Willo has an incredible team, founders we truly believe in, and a rapidly growing service that has found product-market fit. We have been incredibly impressed by what the company has achieved so far and are proud to lead this round and support Willo on their exceptional growth journey."
Immediate growth plans will be focused on the USA and Australia, as well as continued expansion in the UK.
The investment is the latest win for Willo in a stellar 2021 to date, during which it has seen revenues grow by 251% on the back of unprecedented demand across a range of industries. In August alone, 13 new businesses signed up to the service every day and 49,860 interviews took place on the platform.
Euan said of this great achievement - "This investment comes at an exciting and crucial time for Willo as we target further expansion in key markets – including the USA and Australia – and the calibre of investor shows the faith that exists in what we are doing."
---
If you have a success story you'd like to share with us, please get in touch.
First published: 22 October 2021