Sustainability Challenge
Published: 3 March 2023
A student challenge set by Glasgow City Council to help meet their sustainability agenda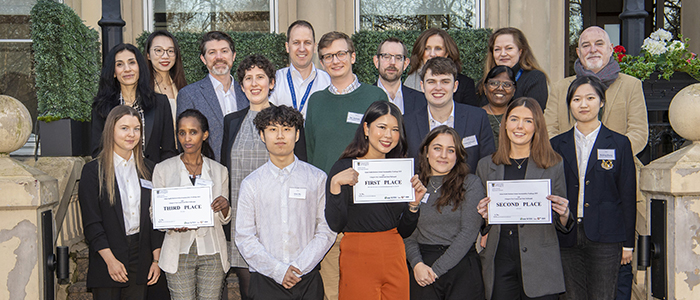 The Adam Smith Business School held the first Sustainability Challenge on 26 January 2023, which was open undergraduate students from all disciplines across the University of Glasgow.
Student teams were asked to help Glasgow City Council meet its sustainability agenda by designing a Monitoring, Reporting and Verification scheme to allow private investment in public climate projects, and new revenue streams for local authorities.
Three teams presented their ideas to a panel of judges including academic staff from Glasgow and Edinburgh universities, the Green Economy Manager from Glasgow City Council and sustainability consultants from Mott MacDonald.
Proposed innovations included drone surveying, social reporting and the winning team's pitch focused on greater use of carbon credits.
The winning team were Blythe Kaddour, Year 1 BSc Honours in Earth Science, Jan Jasinski, Junior Honours Business and Management/Economic and Social History, and Adele Lau Li Ying, Year 2 Business Economics. They won £200 in vouchers and the opportunity to develop their ideas further with the case setters.
The challenge, spearheaded by the Adam Smith Business School's Dr Paulina Navrouzoglou, Lecturer in Economics, and Ed Green, Development Manager, will become an annual student led activity, given the importance of sustainability to the School and our students.
Resources (pdf)
View the resources to find out more about the challenge and solutions:
---
Further information: karen.clancey@glasgow.ac.uk
First published: 3 March 2023
Related links