Dr Connor Bamford
Research Associate (Centre for Virus Research)
Biography
Connor is currently a postdoc in the lab of John McLauchlan in the viral hepatitis program where he is interested in innate immunity against viral infections.
Prior to this, he completed his PhD in the lab of Paul Duprex at the Queen's University, Belfast in 2014. Here, Connor worked on the molecular virology of mumps virus through the establishment of a novel reverse genetics system based on the sequence of non-passaged, clinical material. This system allowed the generation of reporter-expressing recombinant viruses for use in vitro and in vivo to understand viral pathogenesis better.
Connor is passionate about science communication and public engagement with science. Of note, he established the CVR blog along with fellow students.
Research interests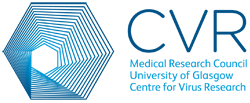 I am motivated to understand the biology behind how the host cell responds to - and regulates - infection by intracellular organisms, namely viruses, with a focus on the innate immune system and its effector genes.
There is a dire need for safe, efficacious and cost-effective vaccines and treatments against some of the most burdensome human and animal diseases. Host genomes encode complex and often redundant means to defend against infection with intracellular organisms with some genes restricting replication or some may facilitate tolerance to infection. Knowledge of how genes fulfil these diverse roles could provide new therapeutic and preventative avenues.
In order to achieve this I seek to:
1) identify novel regulators of viral infection (in collaboration with Sam Wilson at the CVR);

2) determine the mechanism(s) through which these genes acts (in collaboration with Chris Boutell & Elihu Aranday-Cortes at the CVR).

To this end I exploit the CRISPR-Cas9 genome editing system to manipulate the host cell to understand how these genes work under endogenous conditions.

In particular, I established the CRISPR-Cas9 wild-type and nickase system within the CVR to produce knockout and knockin cell lines efficiently. These cells have already extended our understanding of how human genes regulate virus replication (Domingues & Bamford et al., 2015).

Centre for Virus Research, Iii - Cvr,