Dr Maria McPhillips
Head of Research Operations

(Research & Innovation Services)

CVR Research Manager

(Centre for Virus Research)
Biography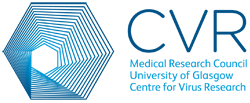 Maria is the CVR's Research Manager. She supports the Director of the CVR in developing and pursuing the Centre's scientific strategy. She manages the Centre's research portfolio and works with CVR researchers to develop and sustain the Centre's research activity through the identification of funding opportunities and preparation of grant applications. Maria is also responsible for promoting the activities of the CVR to internal and external audiences.
Maria joined the University in 2009 and has been working in the CVR since 2012. Previously she worked as a science portfolio adviser for the Wellcome Trust in London, following a period at the National Institutes of Health, USA, as a postdoctoral researcher. Maria has a BSc (Hons) in Molecular Biology from Queen's University, and a PhD in Virology from the University of Glasgow.
Grants
Grants and Awards listed are those received whilst working with the University of Glasgow.
CVR repository as a national asset
Medical Research Council
2021 - 2022

MRC Festival of Science 2017
Medical Research Council
2017 - 2017

MRC Public Engagement Seed Fund
Medical Research Council
2014 - 2015