Ecology & evolution of emerging virus infections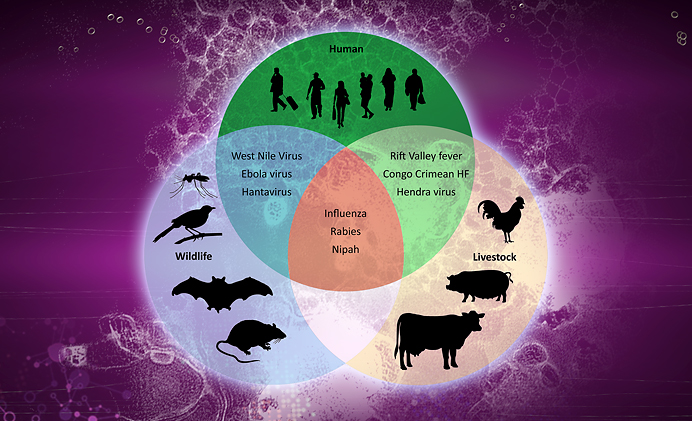 The overarching goal of the programme is to improve understanding of the biology and epidemiology of emerging zoonotic infections in natural reservoirs and identify ecological drivers of viral emergence between species.
Viral pathogens are disproportionately represented among human and animal emerging diseases and cause a high proportion of transboundary animal diseases. The latter represent a major constraint to the development of livestock-based economies and contribute significantly to rural poverty, particularly in low- and middle-income countries.
In addition, viruses predominate as the cause of infectious diseases that threaten endangered wildlife species. Emerging diseases are increasing as a result of a combination of factors including a dramatic increase in travelling and commercial exchange, climate and ecosystem change and increased livestock production. In addition, changes in trading and commercial policies have created optimal conditions for movement of infected hosts over wide geographical areas.
At the CVR, we are building a multidisciplinary research programme that integrates molecular and evolutionary biology, in vivo and field studies, epidemiology, and mathematical modeling. This enables us to investigate the micro-evolutionary dynamics of viruses and how this information can be used to understand aspects of disease transmission and control. Current active research topics include bluetongue virus (BTV); Schmallenberg virus (SBV); avian, bat and equine influenza; rabies and animal morbilliviruses (PPRV and CDV).
Research interests: My research focuses on companion animal virology and immunology with a view to understanding disease pathogenesis, correlates of immunity to infection and the development of novel approaches to the diagnosis, prevention and treatment of viral diseases.
Research interests: Our work investigates the molecular and evolutionary mechanisms that underpin host switching and viral emergence through two lines of investigation, influenza emergence & the virome of disease, by integrating multiple disciplines, from classical virology to mathematical modelling.
Research interests: My work explores the ecology and evolution of emerging infectious diseases. Using rabies virus in bats, my group explores questions about when, where and how viruses jump between host species, with the aim to inform control efforts that limit zoonotic cross-species transmission.
Research interests: My work focuses on hepatitis C virus diversity during transmission and early intrahost viral evolution using next-gen and full length sequencing of the viral genome; and to understand why the immune response to HCV fails in some individuals, including those with HIV co-infection.
Research interests: Our research is examining the spread of morbilliviruses (e.g. PPRV and CDV) between livestock and wildlife species. By identifying the reservoirs of infection and the routes of transmission between hosts, these studies will generate epidemiological and biological data to inform strategies for virus control and eradication by vaccination.