MVLS Engagement Team Updates – August 2021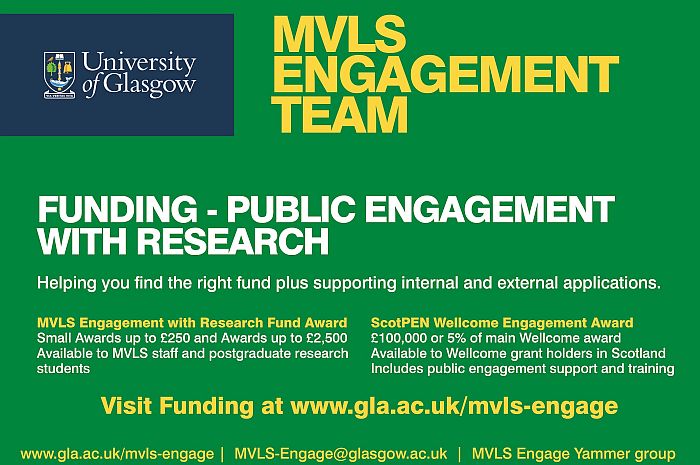 Public Engagement Events & Opportunities
PE Opportunity: Curious About the Human Body
Audience update - events will now focus on Schools - P4-S3 and families. There will be no evening adult sessions.
Proposals are invited to be part of the Glasgow Science Centre's fourth digital festival - The Curious About: The Human Body - launching on 22 February 2022 with "Live" online sessions 9 - 11 March 2022.
Register your interest with the MVLS Engagement team before 3 November 2021
Images of Science 3 – Call for images Deadline midnight 5 November 2021.
Images of Science is an outdoor exhibition on the Clyde walkway showcasing some of the University of Glasgow's world-changing research. The exhibition promotes research in the areas of medical, veterinary and life sciences (MVLS) and helps share our exciting discoveries and ideas with the public.
It's time for a refresh and we are looking for 14 new high quality visually impactful images of research happening at the University of Glasgow. You can submit up to three images.
Please send your images and a description of the research that it represents (100 words max), via UofG File Transfer, to kevin.odell@glasgow.ac.uk. The email must also include the names of the researchers and research funders.
Don't have an image but still want to take part? If you think your research could be presented effectively through an illustration contact Ella Otterbach-Edwards on 2315819O@student.gla.ac.uk with a short summary of your research project/activity.
Discover the Engage Unconference until 12 November
Hosted by the NCCPE this free UK event will explore research, share ideas and practice and offer discussions and workshops, centred around the themes of redistribution of power, effective leadership, inclusive online engagement, civic engagement and moving beyond hero stories.
Biology-Literature event series
Each Wednesday 7-8 PM - from 10 November to 1 December 2021
Supported by the MVLS Engagement Fund Bio-Lit Talks is organised by our postgraduate students. This online, four-event series, exploring the interactions and intersections between Biology and Literature from Scottish texts of the 16th century to contemporary prose, Victorian texts, and Latin American literature - witness easily digestible discussions on the plague, cholera, sexually transmitted infections, and novel pathogens.
COP26- MVLS Supports the Universities UK Green Zone
Good luck to our two MVLS teams who are part of a larger UofG group participating in the Universities UK Green Zone area at COP26.
Heather Ferguson BAHCM will be highlighting the impacts of climate change on insect vector-borne diseases on 8 November
Jon Olsen MRC/CSO Social and Public Health Sciences Unit will explore What built environment features 'on the ground' within a city are linked to levels of inequality in life satisfaction on 12 November the final day of COP
If you are lucky enough to have one of the public tickets, please visit and support the stands. You should find them on the first floor of the Glasgow Science Centre.
Awards
Training
Funding
MVLS Engagement with Research Fund
The fund will close between the 6 December 2021 – 10 January 2022.
We offer flexible awards (up to £2500) to all MVLS staff and postgraduate research students, in support of research-related public engagement activity and skills development.
We are happy to work with researchers to develop engagement applications to this and any fund.
MVLS Engagement Team
College of Medical, Veterinary and Life Sciences
University of Glasgow
Email: MVLS-Engage@glasgow.ac.uk
---
First published: 18 May 2021