Scientific Advisory Board Members
Scientific Advisory Board Members
Dr Sandro Galea Biography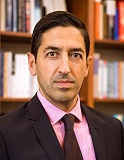 Dr Galea is a physician and an epidemiologist. He is Dean and Professor at the Boston University School of Public Health. Prior to his appointment at Boston University, Dr Galea served as the Anna Cheskis Gelman and Murray Charles Gelman Professor and Chair of the Department of Epidemiology at the Columbia University Mailman School of Public Health where he launched several new educational initiatives and substantially increased its focus on six core areas: chronic, infectious, injury, lifecourse, psychiatric/neurological, and social epidemiology. He previously held academic and leadership positions at the University of Michigan and at the New York Academy of Medicine.
In his own scholarship, Dr Galea is centrally interested in the social production of health of urban populations, with a focus on the causes of brain disorders, particularly common mood-anxiety disorders and substance abuse. He has long had a particular interest in the consequences of mass trauma and conflict worldwide, including as a result of the September 11 attacks, Hurricane Katrina, conflicts in sub-Saharan Africa, and the American wars in Iraq and Afghanistan. This work has been principally funded by the National Institutes of Health, Centers for Disease Control and Prevention, and several foundations. He has published over 500 scientific journal articles, 50 chapters and commentaries, and 9 books and his research has been featured extensively in current periodicals and newspapers. His latest book, co-authored with Dr Katherine Keyes, is an epidemiology textbook, Epidemiology Matters: a new introduction to methodological foundations.
Dr Galea has a medical degree from the University of Toronto, and graduate degrees from Harvard University and Columbia University. He was named one of TIME magazine's epidemiology innovators in 2006. He is past-president of the Society for Epidemiologic Research and an elected member of the American Epidemiological Society and of the Institute of Medicine of the National Academies of Science.
Dr Galea serves frequently on advisory groups to national and international organizations. He has formerly served as chair of the New York City Department of Health and Mental Hygiene's Community Services Board and as member of its Health Board.
_____________________________________________________________________________________________________________________________________________________
Professor Graham J Hart Biography
Professor Graham J Hart is Professor of Sexual Health & HIV Research and Dean of the Faculty of Population Health Sciences at University College London. A medical sociologist, he was previously Associate Director of the MRC Social & Public Health Sciences Unit, Glasgow. His research interests include sexual risk behaviour and the prevention of HIV and STIs, combining structural, behavioural and biomedical approaches to prevention. Graham chairs NIHR Programme Grants for Applied Health Research, and the MRC/DfID African Research Leader Scheme. He is a Fellow of the Academy of Medical Sciences, and was elected to its Council in 2013.
_____________________________________________________________________________________________________________________________________________________
Professor Sian Griffiths OBE Biography
Trained as a doctor Professor Griffiths practiced as a service based public health physician at local, regional and national level in UK before moving to her academic career as Director of the School of Public Health and Primary Care and Founding Director of Centre for Global Health at the Chinese University of Hong Kong.Following her co chairing of the HKSAR governments inquiry into the 2003 SARS epidemic whilst President of the UK Faculty of Public Health, in 2005 she was invited to develop public health at CUHK. Now based in the UK she remains Senior Adviser on International Academic Development to the Vice Chancellor at CUHK. In the UK she is Healthcare Sector Specialist for Healthcare UK, Associate Board member for Public Health England ,chairing their Global Health Committee and Visiting Professor at the Institute of Global Health Innovation at Imperial College, London. She is a Trustee of the Royal Society for Public Health
In Hong Kong Prof Griffiths continues to serve on the management board of the CCOUC with its focus on disaster response and humanitarian response. She retains her advisory role with the HKSAR government on the healthcare reform agenda During her time in Hong Kong she established a wide network of contacts in mainland China and South East Asia. Her Middle East experience includes being a member of the National Health Authority of Qatar. In 2012 she was made Honorary Fellow of Cardiff University for her work on collaborative research between Cardiff and CUHK. She was made JP by the HKSAR government in 2010 for her contribution to health in Hong Kong. She is a Patron of PHAST and maintains her UK networks. In 2012 she was named Professional of the Year in the AMCHAM Women of Influence Awards. She has recently edited the Routledge Handbook of Global Public Health in Asia and is finalizing a report for the HKSAR government on professional regulation. As Senior Academic Adviser on International Development for her university she represents CUHK within the World University Network.
____________________________________________________________________________________________________________________________________________________
Professor Penny Hawe Biography
Penny Hawe was recruited from Australia to the University of Calgary, Canada, in 2000 to take up the foundation Markin Chair in Health and Society. She became a Health Scientist of the Alberta Heritage Foundation for Medical Research in 2007, having previously been a Senior Scholar. In 2004 Penny received funding from the Canadian Institutes of Health (CIHR) research to establish the Population Health Intervention Research Centre (PHIRC) and the International Collaboration on Complex Interventions. She was the Director of PHIRC from 2004-2010. From 2006-2010 she was the Co-Chair of the Population Health Intervention Research Initiative for Canada, representing the Institute Advisory Board of CIHR's Institute of Population and Public Health. She returned to Australia in 2011. She is currently is a lead investigator of the Australian Prevention Partnership Centre a $25m collaboration between the National Health and Medical Research Council and other key organisations. The Centre is designed to build understanding of systems-level prevention strategies in chronic disease. She is currently a Professor of Public Health at the Menzies Centre for Health Policy at the University of Sydney. Penny's undergraduate degree is in community psychology from the University of New South Wales. She has an MPH from the University of Sydney and a PhD from the University of Melbourne. Penny's research interests are in complex community-level interventions to promote health; social network analysis; theory of population health interventions; whole school approaches to mental health promotion; and methods and ethics in population health interventions.
____________________________________________________________________________________________________________________________________________________