Inaugural Glasgow Clinical Trials Forum
The inaugural Glasgow Clinical Trials Units Forum was held on 28 February 2020 in the ICE Building at the Queen Elizabeth University Hospital.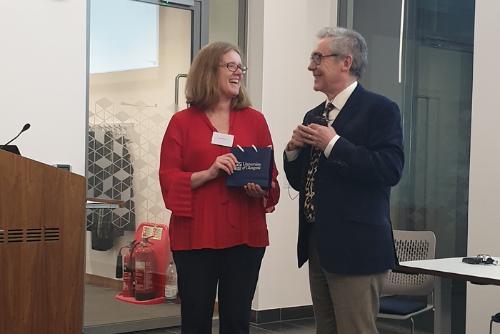 The forum was attended by over 80 delegates from across the University of Glasgow and NHS Greater Glasgow and Clyde.
Glasgow Clinical Trials Units are a University of Glasgow and NHS Greater Glasgow & Clyde collaboration, comprising the Glasgow Clinical Trials Unit and the Cancer Research UK (CRUK) Clinical Trials Unit. The forum was an opportunity for those interested in clinical trials to come together and hear about how the Glasgow CTUs can support research. The activity of the CTUs includes providing support, at a local, national or international level, for clinical trials and registries including their concept and design, implementation and management, regulatory compliance, statistical analysis and reporting. We were delighted to welcome Professor Paula Williamson of the University of Liverpool, an international authority on clinical trials' methodology, who gave the Forum's opening plenary lecture (pictured above with Robertson Centre for Biostatistics Professor John Cleland). This was followed by presentations from CTU staff and local trial investigators.
Given the success and popularity of the event, we hope to hold future GCTU Forum events.
---
First published: 21 April 2020