Report on IHW funding boards workshop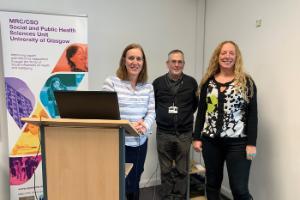 On 28 October 2019, Professors Emma McIntosh, Alastair Leyland, and Sharon Simpson delivered a 90-minute workshop to share their experiences of funding boards with an attentive audience of 40 IHW researchers.
A key message shared by all three presenters was the importance of meaningful patient and public involvement from the outset of a research project.

The presenters covered the outline, full, and peer review stages of applying to NIHR and other funding bodies. Applicants were encouraged to include well-developed logic models in applications; to pay particular attention to plain language summaries, making the application easy for non-specialists to understand; and not to give up if an application is rejected. As Professor Leyland summed up, researchers should "play the long game" and "be brilliant or lucky; ideally, be both."

Delivered in a candid and supportive manner, with senior colleagues sharing their hard-won experiences for the benefit of early career researchers and others developing their first funding applications, the workshop represents the ongoing commitment within IHW to build a positive research culture.
---
First published: 14 March 2018