Building work starts on IHW's new home!
Issued: Wed, 20 Nov 2019 14:48:00 GMT
Construction has started on the Clarice Pears Building, the £50 million facility that will be a new home for Institute of Health and Wellbeing, bringing together staff working in 10 different sites across the city.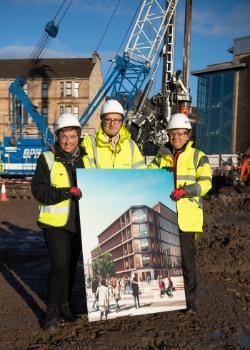 On the significance of this new premises for IHW, its staff and students, and the wider community, institute director Professor Jill Pell commented:
"This will be a landmark building, revolutionising the study of health and wellbeing at Glasgow and positively influencing our impact on the city of Glasgow, Scotland and the world.

It will bring academics and support staff together under one roof, supporting world-changing research, while allowing us to expand our knowledge exchange and stakeholder activities, maximising how our work translates into policy and practice."
Work is due to be completed in Summer 2021.
---