IHW honorary professor receives Majid Samii Medal of Honour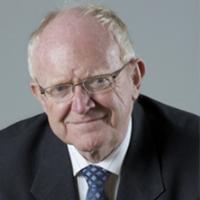 Sir Graham Teasdale recently received the Majid Samii Medal of Honour of the World Federation of Neurosurgical Societies at its Congress in Beijing. This is one of the highest honours that can be bestowed on a neurosurgeon.
Sir Graham is an Honorary Professor in Mental Health and Wellbeing. He was previously Professor of Neurosurgery, Head of the Department of Neurosurgery and Associate Dean for Medical Research. Along with Bryan Jennett, he created the Glasgow Coma Scale, or GCS, which is used in every hospital around the world to give a reliable, objective way of measuring the conscious state of a patient.
Sir Graham was President of the Royal College of Physicians and Surgeons of Glasgow from 2003 until 2006. He was knighted in 2006 for his services to neurosurgery and victims of a head injury.
Despite retiring in 2003, Sir Graham maintains an interest in current clinical and academic practices in neurosciences, and is regularly invited to speak at international meetings.
Sir Graham recently worked to establish an on-line Glasgow Coma Scale tool to provide up-to-date information and training on how to use the scale. In 2016 he was managing editor of a team which collaborated to produce a book commemorating Sam Galbraith, neurosurgeon, MSP and honorary researcher in Public Health.
Sir Graham has collaborated with psychologists for many years and continues to contribute to teaching and research in Mental Health and Wellbeing.
---
First published: 14 March 2018