Healthy Working Lives Group at House of Lords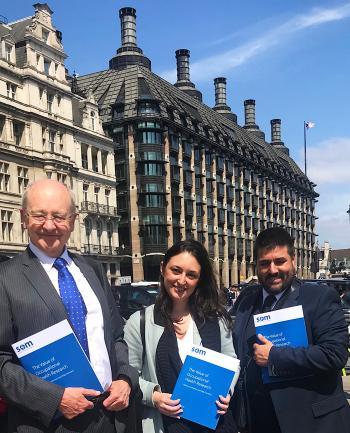 A new report The Value of Occupational Health Research was published on 26 June 2019, with a formal launch at the House of Lords hosted by Lord David Blunkett, and attended by several members of IHW's Health Working Lives Group.
Professor Ewan Macdonald, Head of the Healthy Working Lives Group, with Dr Drushca Lalloo (lead author), Dr Sergio Vargas-Prada Figuero, and from HEHTA, Dr Evi Germeni and Professor Emma McIntosh were commissioned by the Society of Occupational Medicine and the Health and Safety Executive.
The report has 11 recommendations predominantly relating to occupational health (OH) research but also other related OH issues. The first calls for the development of a new coordinating Centre for Health and Work, independent of, but working with regulators, to coordinate research and advice, academic training and promoting the agenda. Other recommendations were that occupational health advice should be available for all of the working age population; this should be underpinned by increased training and recruitment of OH clinicians and, there should be a national co-ordinated OH research strategy that should include robust health economic evaluation.
Since its launch, the report has received considerable support from key stakeholders, for the development of a Centre for Work and Health but also more OH research. Ewan, who chairs the UK Academic Forum for Health and Work, is leading a project group to take this forward.
Through this report the strength of the OH value case appears finally to have met the threshold of attracting the necessary attention in order to bring about the urgent actions required. This is fundamental for ensuring healthy working lives for the UK working age population.
---
First published: 14 March 2018