Supporting older people to "Sit Less and Move More"
Issued: Wed, 14 Mar 2018 13:54:00 GMT
‌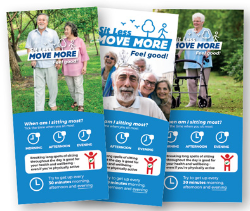 A team at Glasgow University, including staff from IHW's Social Scientists in Health, with support from the Scottish Walking Charity, Paths for All, has developed the Sit Less Move More Feel Good! leaflet and associated online training to support people working with older adults to encourage them to sit less and move more. Sitting for long spells throughout the day is associated with poor health and wellbeing – even for older people who are physically active. The online training includes two informative videos: one on the benefits of sitting less and moving more; the second providing tips and detailed instructions on how to use the Sit Less Move More Feel Good! leaflet with an older person. Anyone who completes the 20-30 minute training will be able to download the leaflet together with a step-by-step guide on how to use it.
Please share this free resource with people in your networks and encourage them to try it in supporting older adults so sit less and move more. Please visit www.sitlessmovemore.uk


---