Research finds that missing GP appointments is associated with early death
Issued: Thu, 24 Jan 2019 10:39:00 GMT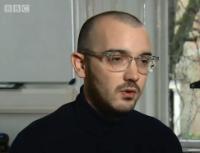 Researchers from General Practice and Primary Care have published research showing that missing GP appointments is associated with early death, and those with long-term mental health conditions are at particular risk.
‌Dr Ross McQueenie (right) led the study along with colleagues from Lancaster University and the University of Aberdeen.
A segment was aired on BBC Reporting Scotland and can be viewed here.
---