Dr Katie Robb receives prestigious Scottish Cancer Foundation Prize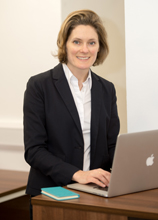 Huge congratulations to IHW's Dr Katie Robb, who has been awarded the prestigious 2018 Scottish Cancer Foundation Prize for her work on improving the earlier diagnosis of cancer and reducing inequalities for cancer patients.
Reflecting on the award, and how she might use the £10,000 prize fund, Katie commented:
I am delighted to be receiving this award and grateful to all the brilliant scientists and clinicians I have collaborated with who have supported this achievement. The prize fund offers an exciting opportunity to accelerate the insights from behavioural science to reduce the burden of cancer, locally, nationally and globally.
---
First published: 14 March 2018