International Society For Pharmacoeconomics and Outcomes Research (ISPOR), Glasgow, 2017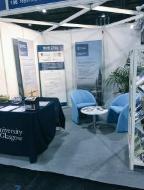 ‌The HEHTA team recently participated in the 20th ISPOR European Congress which took place at the SEC in Glasgow. Over 5000 delegates attended the conference, along with 22 of the HEHTA team.
Professor Andrew Briggs was co-chaired and Professor Olivia Wu, Director of HEHTA along with the senior team decided to invest in this unique opportunity to promote the group's teaching and research work. A real team effort, HEHTA hosted an extremely popular booth showcasing our MSc and CPD programmes, our research, future collaboration opportunities and a highly competitive quiz. Visitors also got the opportunity to try Scottish delicacies thanks to our very own Audrey Dickie and her homemade Scottish tablet!‌‌
It was truly a sweet success with visitors from all over the world dropping by to learn more about the team and our teaching, with HEHTA's unique online distance learning MSc programme being a hot topic of conversation. The team were actively involved in the ISPOR conference and assisted with the running of short courses over the weekend of the 4th and 5th November.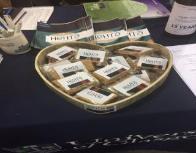 Five HEHTA staff also delivered short courses

Additionally, many of the team had presentations (podium and poster) over the week with several being shortlisted for prizes and our very own Ciaran Kohi-Lynch winning the best student presentation of the conference! Professor Andrew Briggs was also awarded an ISPOR distinguished service award and Professor Olivia Wu was one of the leaders on the first ever discussion panel on Women in HEOR/Science. It was a hectic yet very rewarding week and the senior team would like to take this opportunity to thank all team members for their fantastic help and achievements in making the conference a great success for HEHTA!
ISPOR's press release on the event
Presentations
But will they trade health? A Briggs
An economic evaluation of 'delivering assisted lifestyles at scale' (dallas)
Capturing patient perspectives in the evaluation of medical devices
Cost efectiveness of mechanical thrombectomy R Heggie
Cost effectiveness of intelligent liver function test K Boyd
Developing a conceptual modelling framework for economic evaluation
Effectiveness and cost effectiveness of Tobacco control mass media campaigns
How should we test for pre-term labour
Identifying attributes of cancer treatments
---
First published: 25 October 2017