IHW new colleague coffee mornings
‌All new staff and PGR students are welcome to join us at our quarterly coffee mornings. These are usually held at 10.00am in Public Health (1 Lilybank Gardens) but while many are home-working will take place via Zoom. The dates and times of the next few events are as follows:
Due to the COVID-19 situation, one or more of these events may be postponed. We will amend this webpage as and when decisions are made.
Thurs 10 Sept 2020 (10.00am via Zoom)
Tues 08 Dec 2020 (10.00am via Zoom)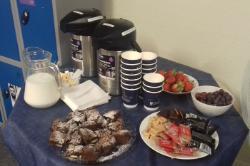 If you have recently joined the institute, and haven't yet attended, you will receive an invitation in due course. Do please come along to one of these friendly, informal events, for tea/coffee, fruit and homebaking, and an opportunity to chat with other new staff and students, and meet IHW director, Jill Pell, and the IHW admin team, Asha Costigan, Audrey Dickie and Jane Goodfellow.