Women in Science - Dr Sue Krause
‌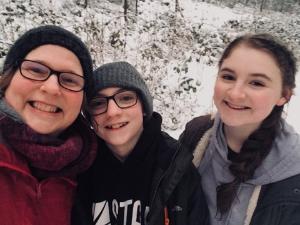 I'm a mid-career postdoctoral researcher. My research career started when I was an undergraduate at the University of Wisconsin-Milwaukee. I was a bit cheeky and asked my biochemistry professor if we were going to study anything other than glycolysis/citric acid cycle. Either I impressed him with my boldness or glycolysis knowledge because Prof. Stephen Ragsdale offered me a job in his lab at the end of our discussion. I was surprised how much I enjoyed working in a lab because I disliked most of the lab practical classes I had as an undergraduate. Doing research (even as simple as getting a protocol to work efficiently in a lab) was more fun than the practical lab classes.
I decided to pursue a career in research based on my undergraduate experience. I was accepted by the Biology Department at Johns Hopkins University (I later joined the Cell Biology & Anatomy Department). During my PhD studies, I moved with my advisor (Prof. Margarete Heck) to University of Edinburgh.
When I joined Edinburgh University, I noticed how balance the work/life aspect of research was – even for PhD students. No long hours, no weekends were the norm. This was so different than how most did science in the US. It was during this time I realized how important it was to have a life outside of science (even if it is still with other scientists!).
When I moved to Scotland, my plan was for it not to be a permanent move. I had all the intentions of moving back to the US. However, my friends from Baltimore were right – I met someone and did not go back.
1999 was a big year for me – my doctorate was completed. I married a non-scientist. AND, I started my post-doctoral research with Prof. Joseph Gray in the Molecular Genetics Division at University of Glasgow. A year later, my daughter was born. Joe was very supportive of me as a new parent (he was one, too) – he even had a serious talking to the PhD student who called me to ask about something the day my daughter and I came home from the hospital. In 2003, my son was born. The maternity leave/job was a close call – as we waited for a grant to officially come through before I was going to start my leave (it just did. Phew!). Unfortunately, my marriage didn't last and in 2006,I became a single parent. In 2013, I started working with Prof. Julian Dow. With Julian, I am enjoying the opportunity to do new things and think big!
Maternity leave for both of children was a great bonding experience and relaxing – knowing that I would get three full years working on the research projects. The BBSRC allowed extensions to the grants for the length of time of the maternity leave. This is vital to ensuring new parents can devote time to their baby without impacting negatively on one's research. This is a little aspect can help retain women in science (and men too!). However, it is just a bit of cellotape to the problem of keeping women in science research careers.
I found one of the keys to maintaining a work/life balance is not working hard but working efficiently and managing time effectively. The other is to realize that it is important to maintain a healthy work/life balance for one's own mental health.
Career highlights to date: identified the genes for two different D. melanogaster mutants, named two S. cerevisiae genes (ACK1 and RGL1), FlyAtlas2, and my current work on FlyMet.