About
Zoonoses and Emerging Livestock Systems (ZELS): Reducing the risk to livestock and people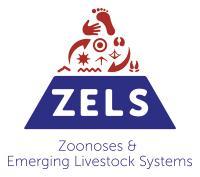 ‌‌The ZELS programme is a £20.5M programme of research and training to tackle diseases that can pass from animals to humans.
The World Bank has estimated that zoonoses have cost global economies more than $20BN in direct costs between 2000-2010, with a further $200BN in indirect costs. As well as threatening human and animal health, zoonoses affect livestock production, causing economic and social harm to communities in developed and developing countries.
Over the next five years the ZELS programme will fund 11 projects in developing countries in Africa and Asia, bringing together expertise from the human and animal health sectors. The aims are to reduce the impact of zoonoses on poor people and their livestock in developing countries in Africa and Asia, and to forge mutually-beneficial inter- and multi-disciplinary partnerships between researchers in the UK and developing countries.
The programme is funded by the Biotechnology and Biological Sciences Research Council (BBSRC), the Defence Science and Technology Laboratory (Dstl), the Department for International Development (DFID), the Economic and Social Sciences Research Council (ESRC), the Medical Research Council (MRC) and the Natural Environment Research Council (NERC).
Download the ZELS programme brochure
Read the launch press release
The ZELS Projects
Livestock, Livelihoods and Health (UK, US, New Zealand, Tanzania)
This programme is comprised of the 3 ZELS projects led by the University of Glasgow - Social, Economic and Environmental Drivers of Zoonoses in Tanzania (SEEDZ; led by Sarah Cleaveland and Jo Sharp), Molecular Epidemiology of Brucellosis in northern Tanzania (Brucella; led by Jo Halliday), and Hazards Associated with Zoonotic enteric pathogens in Emerging Livestock meat pathways (HAZEL; led by Ruth Zadoks). The goal of Livestock, Livelihoods and Health is to contribute evidence that can inform institutional innovations, interventions and policy decisions that lead to better zoonotic disease control in Tanzania.The programme's study sites in northern Tanzania are representative of the changing context of livestock keeping in East Africa in general, it is expected that the evidence collected can also inform approaches to zoonotic disease management across the region. Website: Livestock, Livelihoods and Health
Zoonoses in Livestock in Kenya (ZooLINK; UK, Kenya)
Led by Eric Fevre at the University of Liverpool, the goal of ZooLinK is to enable Kenya to develop an effective surveillance programme for zoonoses which is, by design, integrated across both human and animal health sectors. To achieve this goal project leaders will work in close collaboration with Kenyan government departments, working in western Kenya initially and using this as a model for a national programme. Website: ZooLINK
Establishing a strategy to control brucellosis in dairy herds of West and Central Africa (UK, Senegal)
Led by Javier Guitan at the Royal Veterinary College, this project targets one of the livestock systems in which Brucellosis is likely to pose the heaviest burden on vulnerable populations in Sub-Saharan Africa: dairy farms supplying milk to rapidly growing urban populations in West and Central Africa.
Controlling and monitoring emerging zoonoses in the poultry farming and trading system in Bangladesh: an interplay between pathogens, people, policy (UK, Australia, Bangladesh)
Led by Dirk Pfeiffer at the Royal Veterinary College, this project is taking an interdisciplinary approach to consider the different biological, social and institutional dimensions of avian influenza relevant for its control. The aim is to develop effective policies that will reduce the risk of people's behaviour promoting disease spread.
Epidemiology and evolution of zoonotic schistosomiasis in a changing world (UK, Niger, Senegal)
Led by Joanne Webster at the Royal Veterinary College, this project aims to understand the populations at risk of infection and disease with hybrid schistosomes, with a view to informing control programmes, including schistosomiasis elimination.
Combating avian influenza through systematic analysis of antigenic drift, genetic variation, and development of novel diagnostic tools and vaccines (UK, Pakistan, Vietnam)
Led by Munir Iqbal at the Pirbright Institute, this project will exploit next generation biotechnological approaches to advance our understanding of how genetcs and antigenic diversity influence the protective power of poultry AIV vaccins and the sensitivity of diagnostic tests to differentiate AIV subtypes.
Life on the edge: tackling human African trypanosomiasis on the edge of wilderness areas (UK, Tanzania, South Africa)
Lead by Stephen Torr at the Liverpool School of Tropical Medicine, this project will develop recommendations for farmers, doctors, veterinarians and managers of wildlife areas for disease control in humans and animals in the Serengeti area, and generate guidance on monitoring and managing HAT in wilderness areas.
Ethiopia Control of Bovine Tuberculosis Strategies (ETHICOBOTS; UK, Switzerland, Ethiopia)
Led by James Wood at the University of Cambridge, this projetc will provide practical and effective bTB control strategies which, when applied will significantly reduce the high rate of bTB and its zoonotic transfer in the expanding dairy sector. Website: ETHICOBOTS
Integrated management-based approach for surveillance and control of zoonoses in emerging livestock systems: South East Asia Pig & Poultry Partnership (UK, Myanmar, Vietnam)
Led by Duncan Maskell at the University of Cambridge, this project will exploit interdisciplinary expertise that includes social science, biological science, and governmental players from Myanmar, Vietnam and the UK. It will bring about step changes in control measures using knowledge-driven and culturally relevant strategies that improve both human and animal health and producitivity and thus improve and protect human health.