International recognition for University of Glasgow One Health scientist
Issued: Tue, 20 Oct 2015 00:02:00 BST
Professor of Comparative Epidemiology Sarah Cleaveland has been elected to the National Academy of Medicine, the first University of Glasgow researcher to be awarded the honour.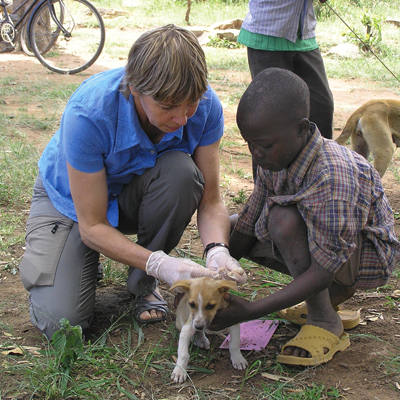 Membership in the National Academy of Medicine is considered one of the highest honours in the fields of health and medicine and recognises individuals who have demonstrated outstanding professional achievements and commitment to service.
Professor Cleaveland was elected to Academy as a result of her years of work and research into zoonotic and livestock diseases in developing countries. Zoonotic diseases are transmitted between humans and animals and to control these diseases, a 'One Health' approach is needed that spans human and veterinary medicine, and involves ecology as well as the social sciences.
Adopting the principles of One Health, Professor Cleaveland has pioneered new methods for monitoring and controlling diseases such as rabies and foot-and-mouth in Africa.
"I'm very proud to have been elected to the National Academy of Medicine. It's one of the highest honours in the field and it's fantastic that the work we've been doing in East Africa has been recognised at this international level. It's an incredible privilege to be able to work in countries like Tanzania. There's a huge diversity of different animal species, with a lot of people and domestic animals living around their wildlife-protected ecosystems. There are no fences to separate wildlife from these communities, so it's a naturally fascinating place to look at diseases that can jump across different host species.

Around 60,000 people die from rabies each year, for example, which is an appallingly high number for a disease which has been all but eradicated in the west. When I started looking at rabies in the Serengeti we were addressing very basic questions about the scale of the problem, the circulation of the virus and where control measures should be targeted. Over 20 years, we came to understand the system pretty well, and we're now in the position where it's entirely feasible to be thinking about eliminating canine rabies—not only in Tanzania but across the world. This would be a huge benefit to humans and animals, particularly in some of the poorest and most neglected communities in Africa and Asia.

I am very fortunate to work with exceptionally talented people who have a really strong commitment and drive to make a difference, both in Glasgow and in Tanzania. We've also been lucky enough to have great support from many funding agencies and industry partners, including MSD Animal Health, who have provided rabies vaccines over the years and are now helping with our work on foot and mouth disease."
"Professor Dan Haydon, Director of the Institute of Biodiversity, Animal Health and Comparative Medicine, said: "This is richly deserved recognition for Professor Cleaveland's extraordinary personal commitment to promoting the control of neglected diseases in some of the worlds poorest countries. The achievements underpinning this recognition are an inspirational reminder of the huge potential for good that resides in our institutions when we embed vision, pragmatism, collaboration and partnership in mutually supportive and enabling research environments."
Professor Cleaveland is one of 70 regular members elected to the National Academy of Medicine—formerly known as the Institute of Medicine—this year, and the first researcher from the University of Glasgow to achieve the rare honour. A further 10 international members were also elected.
"Our newly elected members represent the brightest, most influential, and passionate people in health, science, and medicine in our nation and internationally," said NAM President Victor J. Dzau. "They are at the top of their fields and are committed to service. The expertise they bring to the organization will help us respond to today's most pressing health-related challenges and inform the future of health, science, and medicine."
---