Dorothy McKeegan wins 2019 HSA Award
Issued: Fri, 11 Oct 2019 14:22:00 BST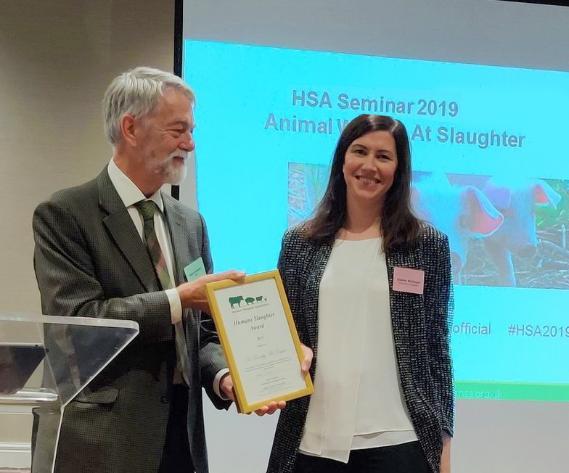 The Humane Slaughter Association (HSA) has announced that Dr Dorothy McKeegan has been awarded the 2019 Humane Slaughter Award for her groundbreaking research into the welfare impacts of controlled atmosphere stunning (CAS) and her outstanding and sustained contribution to protecting animal welfare at slaughter or killing.
Dorothy pioneered the first comprehensive research into the welfare impacts of CAS and her findings had a substantial and international influence on poultry welfare, directly informing the choice of permitted gas mixtures for the killing of poultry in the EU (via the EU regulation 1099/2009 On the Protection of Animals at the Time of Killing).
Most recently, Dorothy was invited to lead an international research team carrying out ground-breaking welfare assessment of Low Atmospheric Pressure Stunning (LAPS) in poultry and was instrumental in producing an application to the European Commission to allow the use of LAPS in poultry, which was added to the EU Directive 2018/723 (amendment to 1099/2009) in May 2018.
This was the first new stunning method to successfully navigate the EFSA guidelines and approval process since its inception in 2010. She is the Principal Investigator of a major new project, co-funded by DEFRA and the HSA, aiming to determine whether LAPS in pigs can provide a humane alternative to stunning with carbon dioxide.
Dorothy received her award at a ceremony in Castle Donington from Dr Robert Hubrecht, Chief Executive and Scientific Director of HSA, who said: "Dr. McKeegan's research has had significant real-world impacts, with ongoing influence both practically and in policy development."
---