MANNA Summer School in Omics
Issued: Wed, 31 Jul 2019 10:11:00 BST
The European Joint Doctorate project on Molecular Animal Nutrition (MANNA), coordinated from IBAHCM, has just completed its 'Summer School in Omics' at the Faculty of Veterinary Medicine of the University of Milan which has recently been re-located to Lodi a city about 40 kilometres from the centre of Milan. Despite the Europe wide heat wave and temperatures close to 40oC, the air conditioning only crashed on one day, the Summer School was highly successful.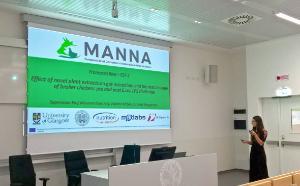 The summer school was attended by all five of the early stage researchers of MANNA who are undertaking their dual PhD studies as postgraduate students also registered at one of the partners which are, Milan, Bonn, Barcelona, Zagreb and Kosice while 20 other PhD students from the Glasgow School of Veterinary Medicine and from across Europe also attended to benefit from the high level presentations. The Summer School focussed on the advanced omic technologies which is integral to their research projects with leading edge presentations from European experts who combine the technologies of genomics, transcriptomics, proteomics and metabolomics with current applications in animal and veterinary sciences in order to improve the nutrition of farm animals. The early stage researchers also presented their research projects including from IBAHCM, Francesca Riva on 'Effect of novel plant extracts on gut microbiota and metabolome of broiler chickens' and Jorge Pienado on 'Protein synthesis rates, effect of diet, health and innate immune responses in chickens'.
The Coordinator of the MANNA project, Prof David Eckersall said that "the MANNA Summer School in Lodi has been highly successful in bringing together the early stage researchers who are based across Europe, to ensure that the collaboration within MANNA develops as an integrated scientific, educational and training programme and to demonstrate the power of cutting edge omic technologies to aid the development of advanced nutritional studies.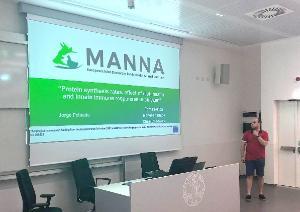 The interactions between students, academic and non-academic partners we have seen is an essential part of our work packages and deliverables. We look forward to coming together again in the next Summer School in 2020." The local organisers of the meeting Prof Fabrizio Ceciliani and Chiara Mariani from Milan as well as the MANNA team in Glasgow, led by Dr Mark McLaughlin and Dave Iglesias received many thanks for the smooth organisation of the Summer School.
---