Institute Researchers receive Award from Tanzania National Parks
Issued: Tue, 25 Jun 2019 09:39:00 BST
‌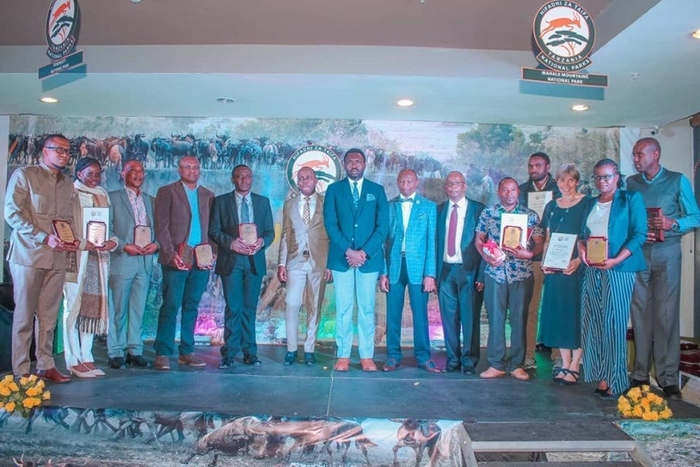 Institute researchers working in Tanzania have been recognized by an award from Tanzania National Parks (TANAPA) in Arusha last week. Professor Sarah Cleaveland attended the award ceremony on behalf of the researchers, and received the award from the Minister of Natural Resources and Tourism, Mr.Hamis Kigwangala at a ceremony at the Mt. Meru Hotel, Arusha.
The award was made in recognition of the Institute's contributions to understanding issues of relevance to conservation and tourism in Tanzania, and long-standing collaborations and partnerships with Tanzanian scientists, including Dr Simon Mduma (Tanzania Wildlife Research Institute) and Professor Rudovick Kazwala (Sokoine University of Agriculture), who also won awards in the category for Tanzanian scientists.
Thanking the organizers, Professor Cleaveland said "I was really touched and honoured to collect this award for scientific research from TANAPA in recognition of the Institute's work in Tanzania. It was a privilege to be nominated together with Professor Tony Sinclair and Dr Jane Goodall in the category scientific research together with our collaborators, Dr Mduma and Professor Kazwala. Our cross-sectoral partnerships in Tanzania form the foundation for all our research and this recognition of our work in the wildlife sector means a lot to us".
Many of our Institute researchers are involved in collaboration with Tanzanian scientists, including Kathryn Allan, Francesco Baldini, Sarah Cleaveland, Will de Glanville, Heather Ferguson, Taya Forde, Jo Halliday, Katie Hampson, Dan Haydon, Grant Hopcraft, Paul Johnson, Tiziana Lembo, Barbara Mable, Louise Matthews, Jason Matthiopoulus, Tom Morrison, Luca Nelli, Katarina Oravcova, Ruth Zadoks, together with many other support staff, students, and post-docs.
Congratulations to everyone involved.
---