Social media and Sparrows
Issued: Mon, 19 Mar 2018 11:03:00 GMT
‌‌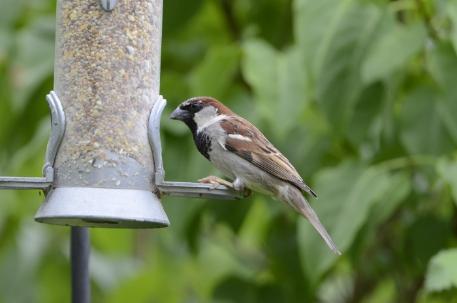 Since 2014, the Glasgow House Sparrow Project has brought together researchers and students from IBAHCM with staff and volunteers from RSPB Scotland to understand the reasons behind Glasgow's house sparrow decline and what we can do to bring the birds back to our gardens. What started as a "side-desk project" between Dr Ross MacLeod (IBAHCM) and Dr Kat Jones (RSPB Scotland) has grown into a multi-faceted collaboration, joined by Institute researchers Dr Ruedi Nager and Professor Jason Matthiopoulos.
The project was recently awarded funding through the University of Glasgow's Knowledge Exchange Flexible Fund. This grant will be used to bring the research and conservation efforts of the project to a wider audience across the city. Karen Hotopp will be leading the public engagement campaign, working from both the Graham Kerr and RSPB Scotland offices here in Glasgow.
The Knowledge Exchange funding provides the opportunity to publicise research-based conservation recommendations and encourage the community to implement these measures. Karen will be doing this through social media and blogging, delivering programs in local schools, hosting talks and workshops with local groups, and overseeing the testing and release of a new data collection app. Many of the events are already underway: the project has been active in the Kelvingrove Museum and Art Gallery, building nest boxes and teaching about "sparrow-friendly gardening" throughout February and March.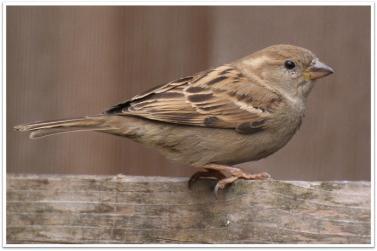 Social media outreach will be an important means of connecting with local and global audiences. March 20th marks World Sparrow Day - an international day to raise awareness of house sparrow decline - and the Glasgow House Sparrow Project is participating through a strategic social media campaign. Posts will encourage the community to engage in sparrow-friendly gardening through "lazy gardening" (not trimming hedges) and building "sparrow streets" (providing multiple nest boxes), as well as connecting with researchers.
One of the more prominent aspects that Karen will be working on is the release of the new app. For the past several months, two teams from the School of Computing Science and led by Dr Timothy Storer have been creating new engagement tools: one-part game, one-part citizen science data collection form. The idea behind the game is to keep your sparrow happy and alive, while attracting more birds, by creating a sparrow-friendly garden. Players must watch their birds' health meters for over-all health, happiness, and hunger. These meters are each calculated using real ecological survivorship measures, including predation risk, food availability, and nesting opportunities.
The data collection side of the new app will help fuel the research conducted in the Institute. The Glasgow House Sparrow Project has used students and volunteers since its inception to survey sparrow colonies in neighbourhoods throughout the city, but now more people will be able to participate and submit sparrow sightings. Following on from the original survey, the forms will collect location and garden information for analysis.
The app will go through rigorous testing over the next couple of months before it is officially released in June, at a public engagement event that will round off the Knowledge Exchange grant.
If you are interested in the Glasgow House Sparrow Project, you can find out more, try your hand at the SparrowQuest game, and submit sparrow records by visiting the project's website at housesparrowscience.com.
---