Breaking the Cycle: A Mixed-Methods Approach to Reducing Schistosomiasis Transmission in Uganda
Breaking the Cycle: A Mixed-Methods Approach to Reducing Schistosomiasis Transmission in Uganda
Issued: Wed, 21 Feb 2018 09:41:00 GMT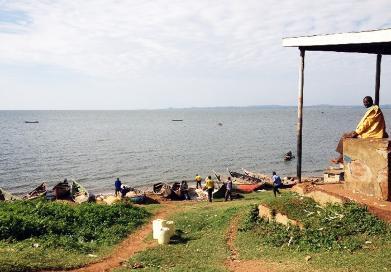 Schistosomiasis is a neglected tropical disease that infects over 240 million people worldwide including an estimated 4,000,000 people in Uganda.
Dr Poppy Lamberton and Professor Nick Hanley from the Institute of Biodiversity, Animal Health & Comparative Medicine, have teamed up with Dr Lucy Pickering and Professor Sally Wyke, from Health & Wellbeing, to work with colleagues in Uganda on this MRC GCRF funded project.
This creative collaboration between MVLS, Uganda Virus Research Institute and Vector Control Division (Uganda Ministry of Health) uses rapid ethnographic appraisal (REA) to inform choice experiment design to identify appropriate interventions.
The mixed-methods project aims to better understand how people living in endemic communities manage schistosomiasis-related risk and what can be changed to reduce transmission.
Preliminary analysis of the REA data suggest that despite a decade of education and mass drug administration, most people do not know they are at risk and those who do continue to engage in high risk practices such as fishing, bathing, washing and swimming in the infected Lake Victoria.
This stems in part from structural constraints that limit access to other water sources, but also from local ideas about how schistosomiasis is contracted, including drinking unboiled lake water, witchcraft, and breast feeding.
Only through understanding these concerns and conceptions can we develop culturally meaningful interventions to reduce transmission.
---
Links:
https://www.poppylamberton.com/
https://www.youtube.com/watch?v=t62CHi4daTY