Three Minute Thesis 2019
Final
The Grand Final took place on Thursday 21st March 2019 at 3.30pm, in the Senate Room with an audience of nearly 100.
Overall winner: Emma Elliott - "Draw me a clock..."
Runner up: Saowalak Boonaiem - "Does international tax increase foreign direct investment in developing countries?"
People's Choice: Michaela Hruskova - "Chasing Unicorns in Scotland" (formerly "Entrepreneurial Ecosystems or Egosystems?")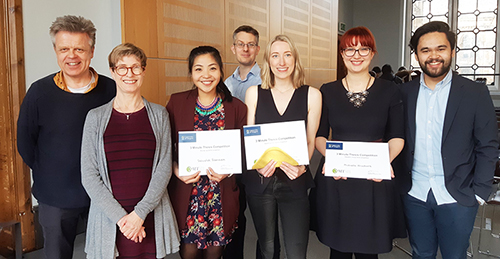 We hope to keep in touch with our winners to see how they make use of their research prizes in 2019/20!
3MT Finalists 2019
Well done to all of our 2019 participants! The finalists who made it through their heats were:
Gavin Macauley (SCI&ENG) - More is different: how tiny magnetic Lego can build the next generation of computers
Katie Riddoch (SCI&ENG) - Robot Friends – Science Fiction or Reality?
Oleksandr Zhdanov (SCI&ENG) - How do plants respond to wind?
Kathryn McCall (MVLS) - The SABER Study has a Bone to Pick with Septic Arthritis
Narissa Parry (MVLS) - Initiating Self Destruct: using cancer cells' own defence against them
Raminta Kazlauskaite (MVLS) - SalmoSim - An Artificial Salmon Gut System
Emma Elliott (MVLS) - Draw me a clock…
Caitlin Duncan (MVLS) - Going Loopy: Predicting Treatment Response in Rheumatoid Arthritis
Rommel J. Gestuveo (MVLS) - Zika virus: outsmarting the clever
Michaela Hruskova (COSS) - Entrepreneurial Ecosystems or Egosystems?
Saowalak Boonaiem (COSS) - Does international tax increase foreign direct investment in developing countries?
Jorge Pinheiro (COSS) - Macroprudential Policy in a Union
2019 Films
Arts
Medical, Veterinary and Life Sciences
Science and Engineering
Social Science