Solas Festival 2019
Solas Festival 2019
For the 3rd year running, the UNESCO Chair team has organised a series of workshops, presentations and performances at the Solas Festival in Perth as part of Refugee Festival Scotland 2019.
For details of the full Solas 2019 programme, please visit the Solas website: http://www.solasfestival.co.uk/
Get your ticket now at Brown Paper Tickets
Look out for Alison Phipps' highly popular annual lecture, presented together with Gameli Tordzro, Tawona Sitholé and Naa Densua Tordzro. She will also be joining a panel together with Simon Barrow, Gerry Hassan and Sally Forster-Fulton, to talk about Scotland's journey since the founding of a modern Scottish Parliament. Alison will make her third entry in a creative conversation with Fergus McNeill, around criminal justice, migration and integration.
New this year is a series of podcasts, recorded LIVE at the festival, by Refugee Voices Scotland. Absolutely not to be missed, previous recordings can be found here: https://soundcloud.com/refvoicesscot
We have teamed up with the Scottish Refugee Council's Life after Detention group and Ice and Fire's Actors for Human Rights, to bring you their Detention Dialogues. Poignant stories from New Scots: a real eye-opener.
From our team of Affiliate Artists we will be hosting a participatory photography workshop by Pieter van der Houwen. No previous experience needed, but a phone with camera function or a digital camera is a must.
I.D. Campbell will take you on a portrait drawing workshop, absolute beginners welcome, you'll be surprised by what you can create under Iain's guidance!
Martha Orbach has created a workshop around plants, to make us think of which natural elements remind us of home.
Looking for languages? Giovanna Fassetta, Esa Aldegheri and Nihaya Jaber will present their new online Arabic course, created in collaboration with the Arabic Centre of the Islamic University of Gaza.
Our own Artists in Residence will be hosting workshops and activities for children and young people this year. Tawona Sitholé will be leading a colouring activities for the little ones and will also present a workshop in 3D storytelling. One more week to practise your moves! Gameli Tordzro is coming back with his hugely popular story-telling session, to teach us wisdom from West-Africa.
From Liverpool, we are honoured to welcome Prof Charles Forsdick, who will be telling us about Haiti. He will also be presenting the Anti-Slavery Knowledge Network, together with Lennon Mishi.
Get your ticket now!! at http://www.solasfestival.co.uk/
Instagram: @solas.festival
#SolasFestival2019
#SolasFestival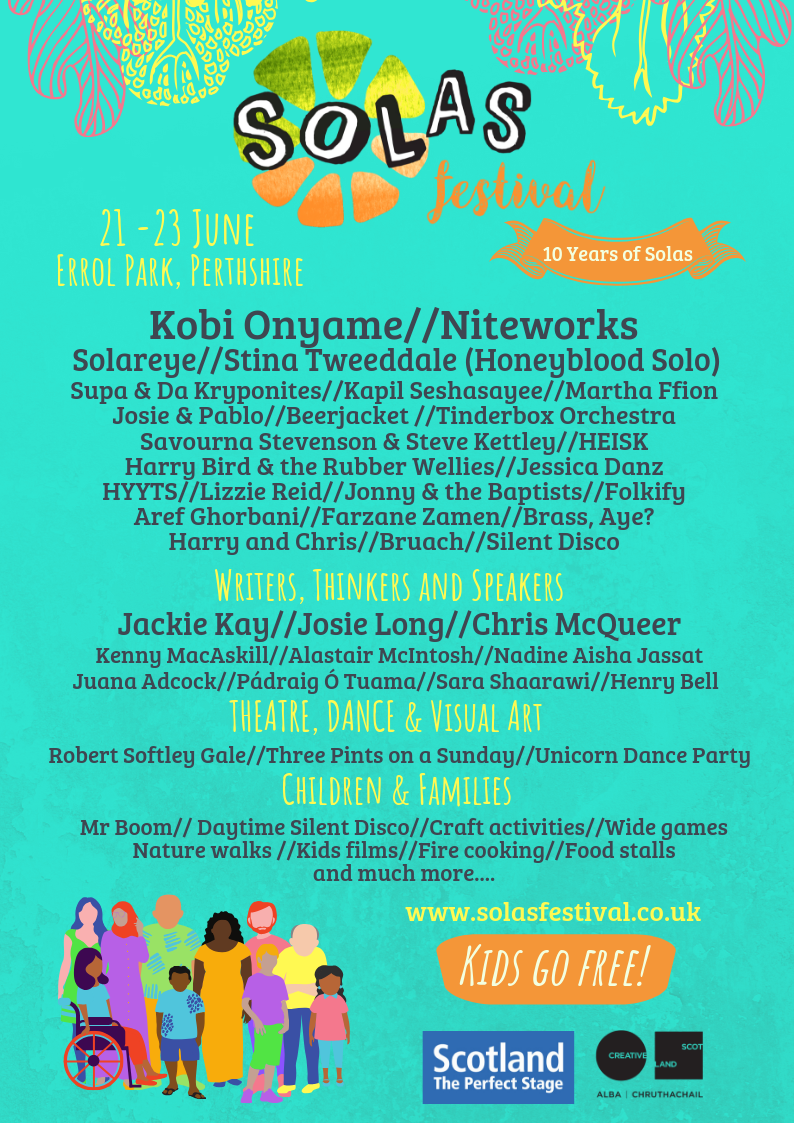 Solas Festival 2018
Solas Festival 2018
22 - 24 June 2018
In 2018, the collaboration between the UNESCO Chair project and the Solas Festival was continued, which led to a new UNESCO Chair strand at the festival. This year the UNESCO Chair had it's own tent, shared with the Scottish Refugee Festival.

The Welcome hut and the UNESCO Chair tent
Photo: Christian Hanser
Learn Arabic with a Palestinian flavour
This workshop, led by the Online Palestinian Arabic Course team, started with start with a taster Arabic lesson, using materials developed for the OPAC course. Participants were then given the chance to ask questions about the OPAC project, issues surrounding technology & remote learning, or the taster lesson itself. The second half of the workshop was a guided lesson through preparing za'atar, a typical Palestinian condiment. The lesson was in both Arabic and English and also explored the affective dimensions of the food being prepared. The session ended with participants enjoying the food they had made, while listening to Palestinian poetry and music connected to the ingredients used.
Esa Aldeghieri leading the Palestinian Arabic session
Photo: Bella Hoogeveen
The Welcome Hut, created by Christian Hanser, is a mobile cultural centre for the art of hospitality. This roadworthy tiny house shepherd's hut is an open invitation to sit around the wood fire stove, tell life stories, decelerate and daydream. The hut is usually based in France, but since November 2018 it is in Scotland as part of a Mr Hanser's doctoral research. The hut is available to book and delivers work in villages and small communities or work places to celebrate local micro-hospitalities!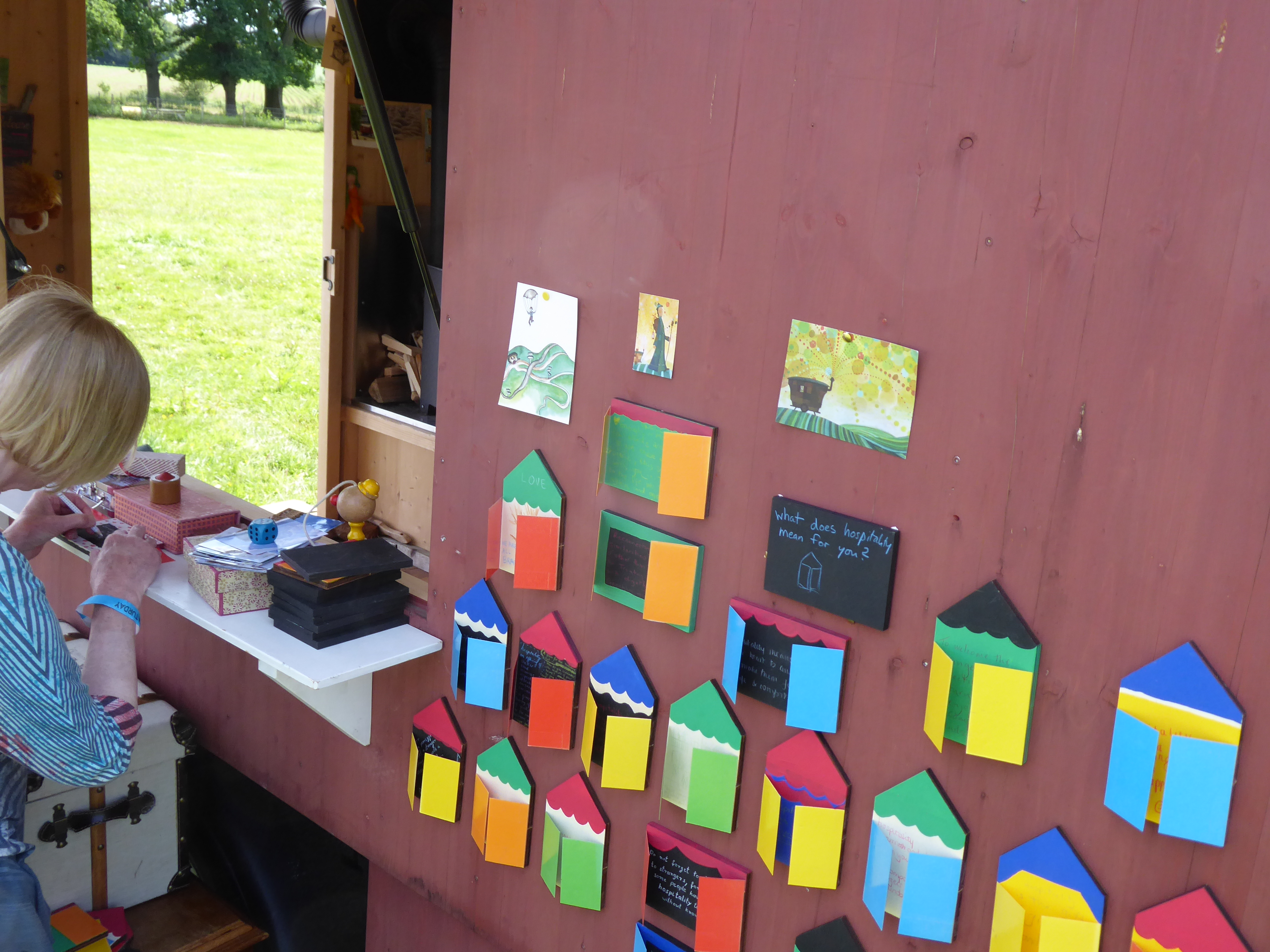 Writing what home means to you at the Welcome Hut
Photo: Christian Hanser
Alison Phipps repeat of UNESCO Chair Annual Lecture
This year too Professor Alison Phipps will deliver the repeat of her UNESCO Chair Annual Lecture. Abstract of her talk below.
Do you get my drift?: 'Sankofa' and the Arts of Integrating the old with the new
With Gameli Tordzro, Tawona Sithole, Naa Densua Tordzro
This lecture mined the contested concept of Integration for its history, variation and substance. It considered the important work of law and social policy in developing frameworks and duties for integration, especially with regard to the work of New Scots Integration Strategy, Scotland. It then moved to examine the place of concepts of integration in conflict transformation, international relations and trauma healing. Finally it developed understandings of integration from indigenous sources of knowledge, looking at the concept of sankofa, indigenous practices of integration, and the decolonial thought.
With the new focus on languages and arts in the processes in individual and intercultural integration the lecture worked multilingually and artistically, as well as through more traditional forms of research presentation.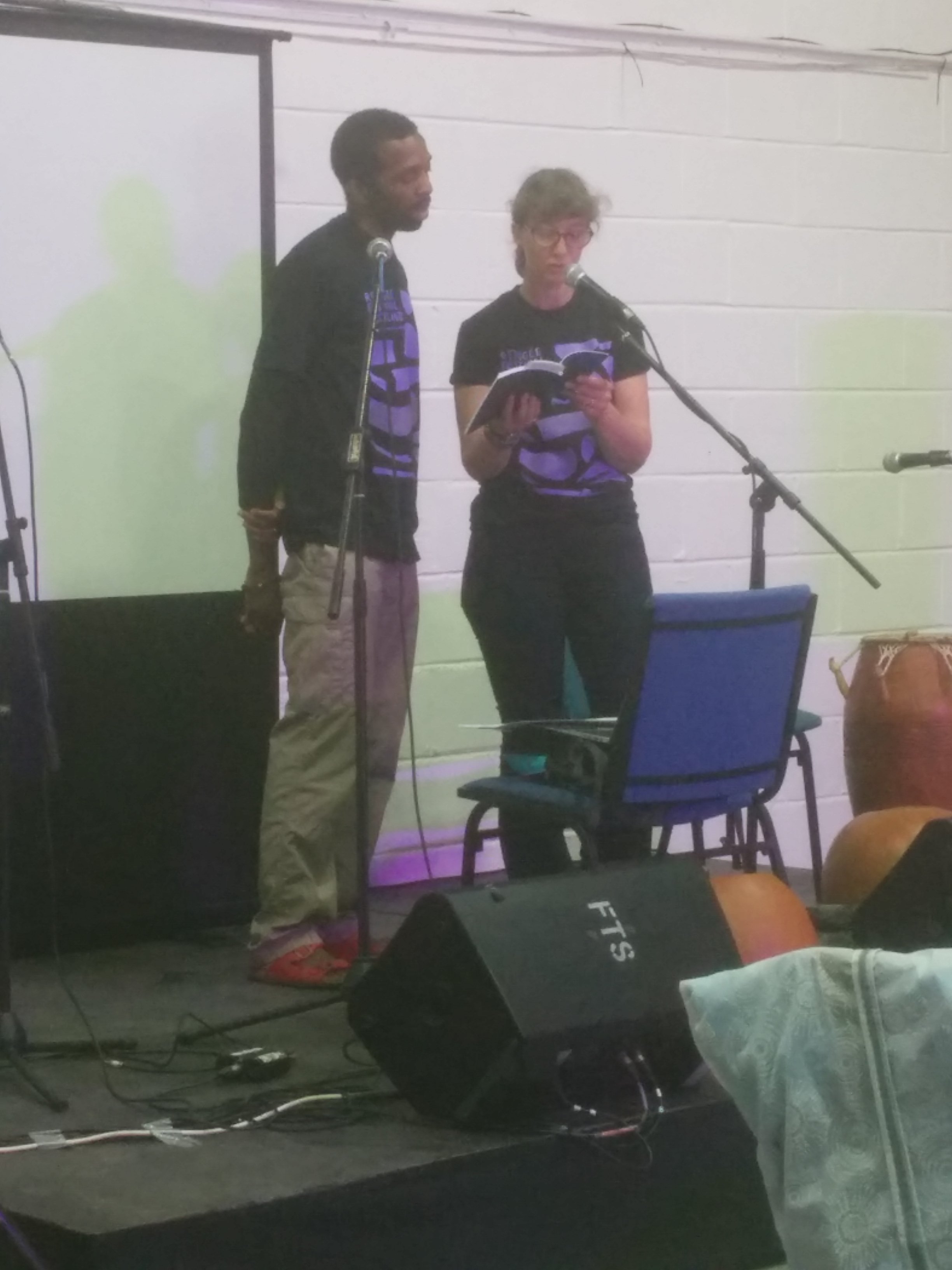 Alison Phipps and Tawona Sitholé reading from their poetry anthology The Warriors Who Do Not Fight
Photo: Bella Hoogeveen
Gameli Tordzro - UNESCO RILA Artist in Residence
Mr Tordzro delivered a music workshop and a storytelling workshop this year.
Tawona Sitholé - UNESCO RILA Artist in Residence
Ideal for beginners and seasoned writers alike, Tawona 'ganyamatope' Sitholé led a creative session of writing and conversation. A sharing of techniques, approaches and inspiration for creative writing of poetry and prose.
He also led a one-hour long scratch performance, welcoming people into a storytelling experience of poetry, song, dance and fantastic characters. In the pasichigare style, storytelling is a combined effort so feel free to accept the invitation to join in, or else just participate with your presence.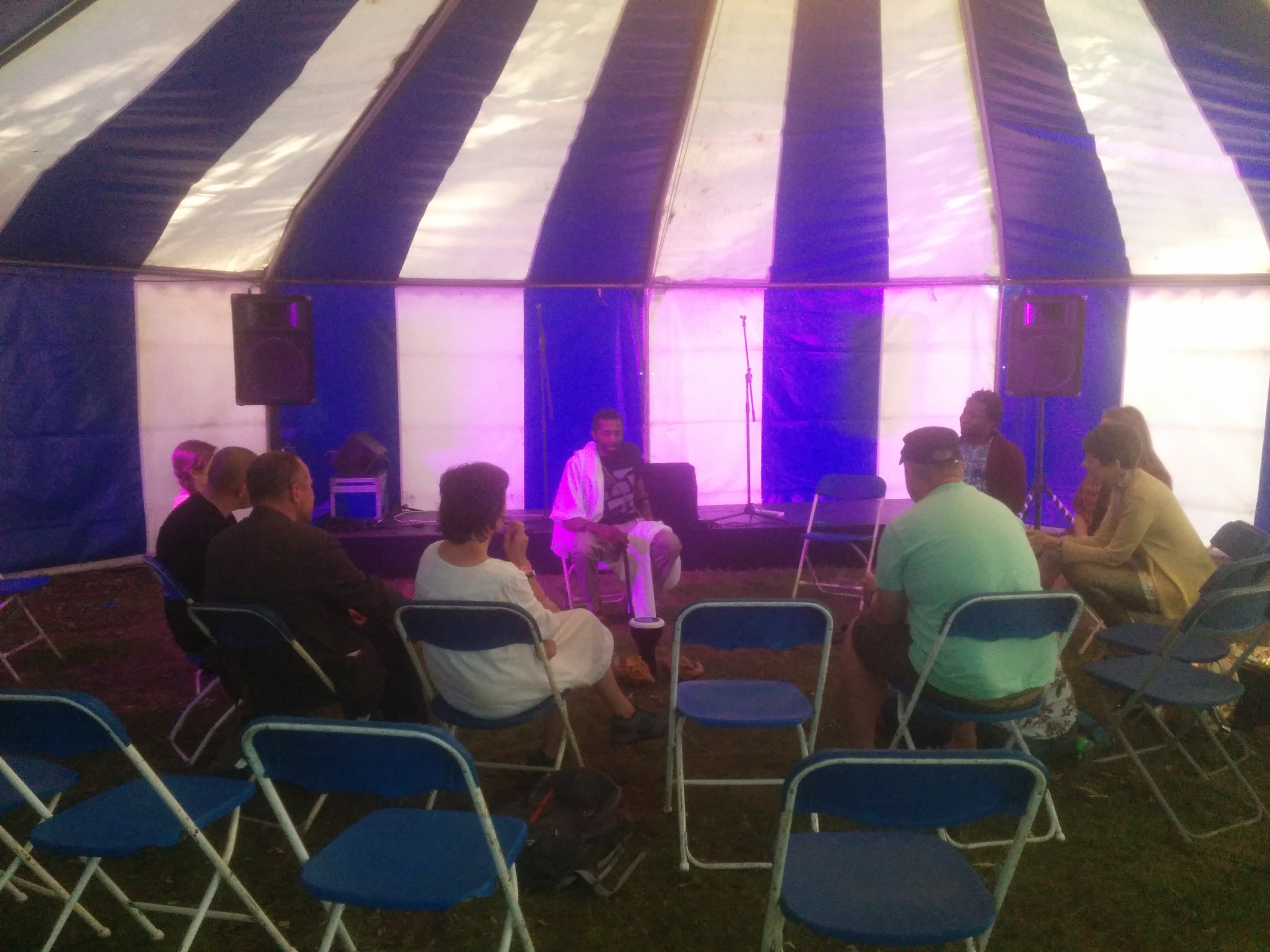 Tawona Sitholé during his scratch performance
Photo: Bella Hoogeveen‌‌
By: Ice and Fire's Actors for Human Rights and Scottish Detainee Visitors' Life After Detention Group
Ice and Fire's Actors for Human Rights Outreach Project is dedicated to exploring human rights concerns through the creation and performance of documentary scripts. 
Scottish Detainee Visitors provides support for people affected by immigration detention and advocates for an end to detention. This includes a Life After Detention group (LAD), which supports people with experience of detention and provides a platform for their voices to be heard.
Together they created Detention Dialogues: a piece of documentary theatre that gives voice to migrants' stories through the creation of verbatim scripts. Three of these dialogues, featuring real-life testimonies, were performed at three different locations, followed by a discussion around the theme of detention. A film made by the LAD group, using only their mobile phones and voices was screened in the cinema. Making this simple but powerful film supported the group's resilience, as well as created a visual and public testimony to their experience.
‌
Self-Creative
Writing Workshop
Corinne Aimee Ottroh, UNESCO RILA Ambassador  led a self-creative writing and storytelling workshop to explore and celebrate integration, with the help of Kolb's (1984) experiential learning theory. 
In this guided workshop, participants were encouraged to reflect on their own integration journey, whether that be integration into a different country/society, a new neighbourhood or into a new job etc. Together they created their own stories, based on their experiences, to better understand their journey and to learn from it. Participants were offered the space to share their writings, if they felt comfortable doing so.
Professor Charles
Forsdick
– University of Liverpool
Just like last year, Professor Charles Forsdick held a talk on the subject of slavery. This year a slightly different angle, title and abstract below.
Anti-slavery knowledge network: connecting past and present
The Global Slavery Index estimates that there are 46 million enslaved people worldwide today. The talk will present the work of the Anti-slavery knowledge network, a Global Challenges Research Fund project funded by the Arts and Humanities Research Council. Drawing on work with heritage professionals and creative artists in Democratic Republic of Congo, Ghana and Sierra Leone, the network explores the existence of intersections between Atlantic slavery and contemporary slavery, and deploys the idea of activated community memory as a resource for social change. The project seeks to connect the long history of slavery, antislavery's unfinished work and the symbols of slave heritage to current antislavery challenges.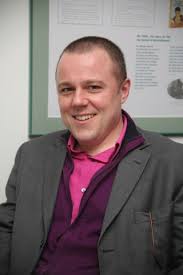 ‌
Women and Girls: Religion and Rights
By: Karen Wenell and Corinne Aimee Ottroh
This workshop session explored the priorities for supporting the religious needs of women and girls in refugee situations. Issues for consideration included access to clean water and lockable toilets, hygiene, health and psychosocial support, and how faith and beliefs relate to these priority areas. The workshop was part of an Arts and Humanities funded network project entitled Women, Faith and Humanitarian Interventions. Using stories drawn from the work of project partner NGO Global One, the workshop explored how rights to religion for women and girls can be advanced.
In this interactive graffiti storytelling session for children, SprayPeace and Gameli Tordzro explored themes of migration and hospitality. Participants listened to the first half of the story, while watching the pictures appear, then joined in in the second half to add your own voice to the mix. They were invited to use graffiti to create their own ending to the story.
The final art work after the grafitti workshop
Photo: Bella Hoogeveen
Poetry performances
from Writers Without Borders
Writers Without Borders member and UNESCO Chair Affiliate Artists Predencia Dixon and Ricky Dragon performed two sets of 15 minutes each or their own poetry. They challenged listeners' thinking about identity, migration and society with their salient words.

Writers Without Borders is a Birmingham-based group of writers from a variety of cultural backgrounds. Some have lived in England for many years and others have arrived in the country quite recently. The group includes professional, semi-professional, new and emerging writers. They meet on a monthly basis in central Birmingham to share their work. The group has published a number of anthologies of poetry and prose, and has taken part in a number of events in Birmingham and further afield. In addition they also organise performances of their work often working in collaboration with other organisations and groups and accompanied by musicians.
Film screenings
By: Scottish Detainee Visitors' Life After Detention group
The harm caused by detention does not end once a person is released. For many, the trauma of detention, and the struggles with uncertainty, continue. This is the subject of 'Life After Detention', a new film made in collaboration with the Life After Detention group from Scottish Detainee Visitors. The group filmed aspects of their life in Glasgow on their mobile phones and worked with film-maker and SDV volunteer, Alice Myers, to create the film. It was premiered at an Unlocking Detention event on Tuesday 12 December at the Glad Cafe in Glasgow.
The film was followed by a discussion with Shirley Gillan, coordinator of Scottish Detainee Visitors.‌
Director and producer: Gameli Tordzro
Executive Producer: Alison Phipps
This 1-hour documentary film by Gameli Tordzro with Selorm Tay, Eli Tordzro and Sedem Tordzro is about a three-week visit to the Noyam African Dance Institute in Ghana by a team of researchers from the UK, Uganda, Gaza and Ghana, to devise a community theatre piece on the themes of distress, resilience and well-being. Visitors were advised to pay special attention to the multilingual component of the work.

The film was followed by a Q&A session with Gameli Tordzro and Alison Phipps.
1745
–
An Untold Story of Slavery
Producer: John McKay
By: Morayo and Moyo Akandé
When two young black slaves escape into the wilds of 18th century Scotland, they must use all of their courage and strength to survive, unite, and stay free.
1745 highlights a forgotten part of Scotland's history: while Scotland was fighting for its national freedom in that fateful year, its economy was in large part founded on the booming colonial slave trade. While the majority of slavery happened elsewhere - off-stage, across the Atlantic - there were African slaves here, kept as trophies and pets in the houses of their rich merchant masters. "1745" was inspired by advertisements that writer, Morayo Akandé, discovered for runaway slaves, placed in Scottish newspapers of the time.
The film was followed by a Q&A session with John McKay.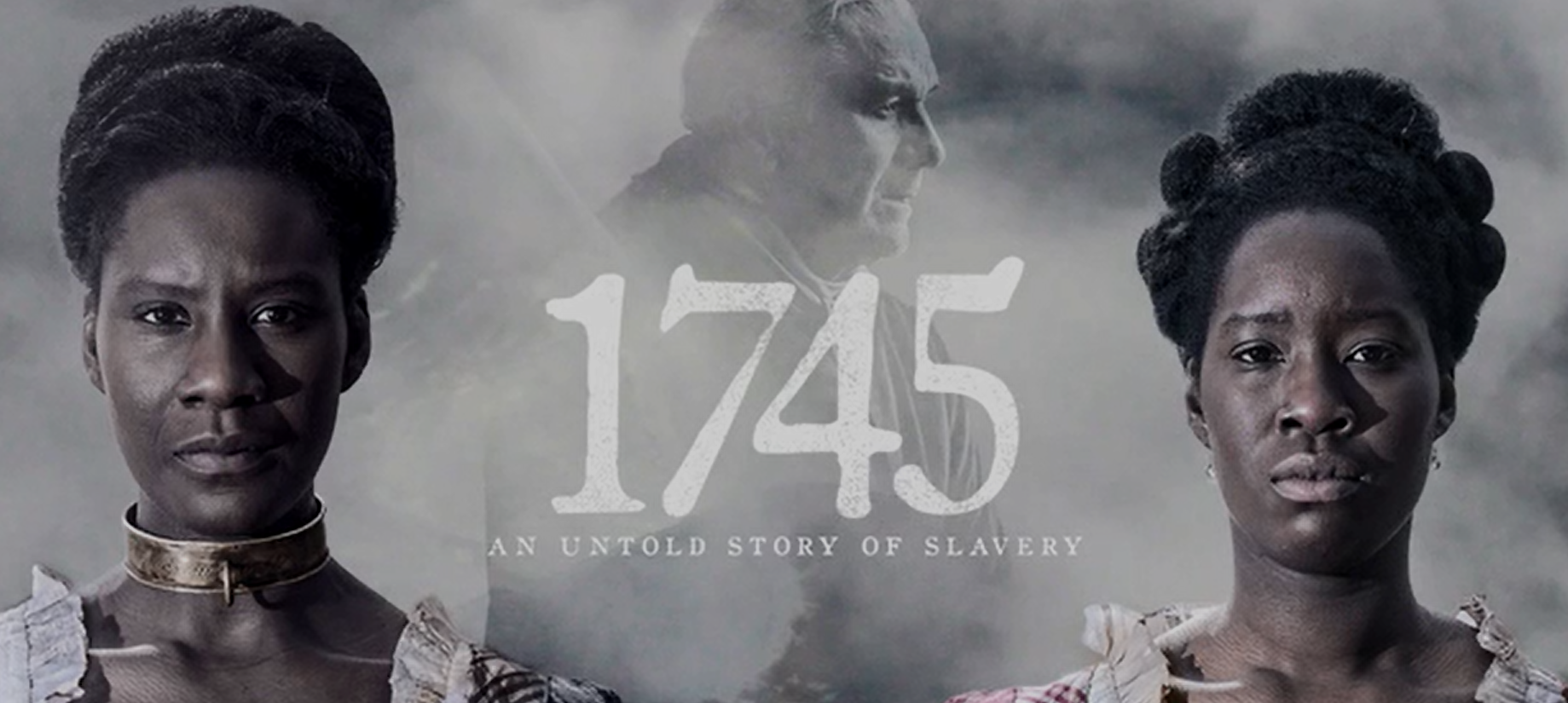 ‌
Solas Festival 2017
Solas Festival 2017
23-25 June 2017
In 2017, the UNESCO Chair project started a collaboration with the Solas Festival. The UNESCO Chair curated a strand of events, all of which were about integration, migration and identity
Noyam African Dance Institute - Broken World, Broken Word
The highlight of the programme was the performance of Broken World, Broken Word by Noyam African Dance Institute. That performance is an output of a large research project called Researching Multilingually at the Borders of Language, the Body, Law and the State. Professor Alison Phipps was the Principal Investigator.

Noyam African Dance Institute perform at the Solas Festival.
Photo: Alison Phipps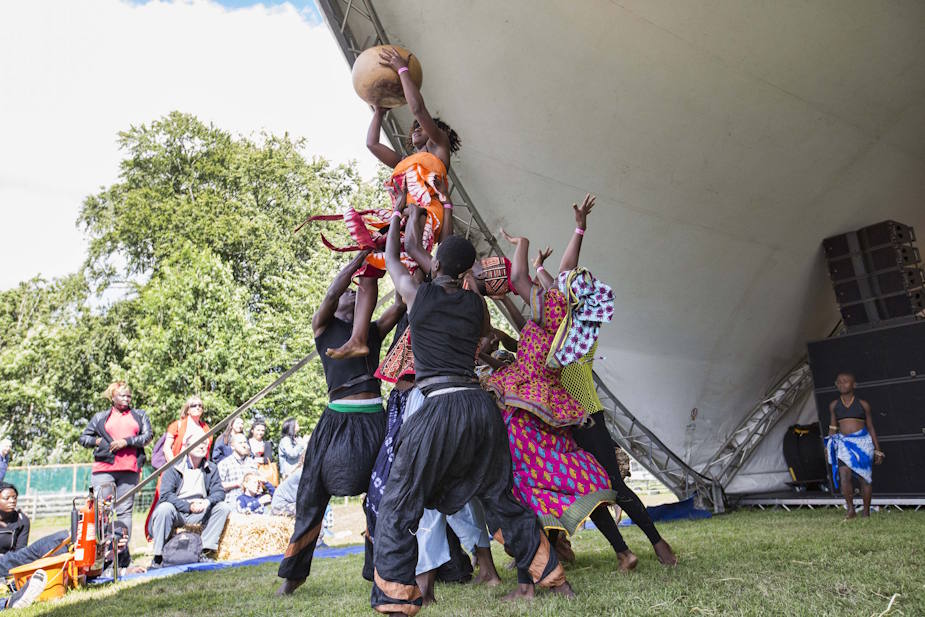 Broken World, Broken Word, performed by Noyam African Dance Institute at the Solas Festival 2017
Photo: Karen Gordon
Film screening
Gameli Tordzo, UNESCO Chair Artist in Residence, created a feature film and a documentary about the research that was done at Noyam African Dance Institute. The film was screened at the Solas Festival as part of the UNESCO Chair strand.
Both the film and the documentary are available here.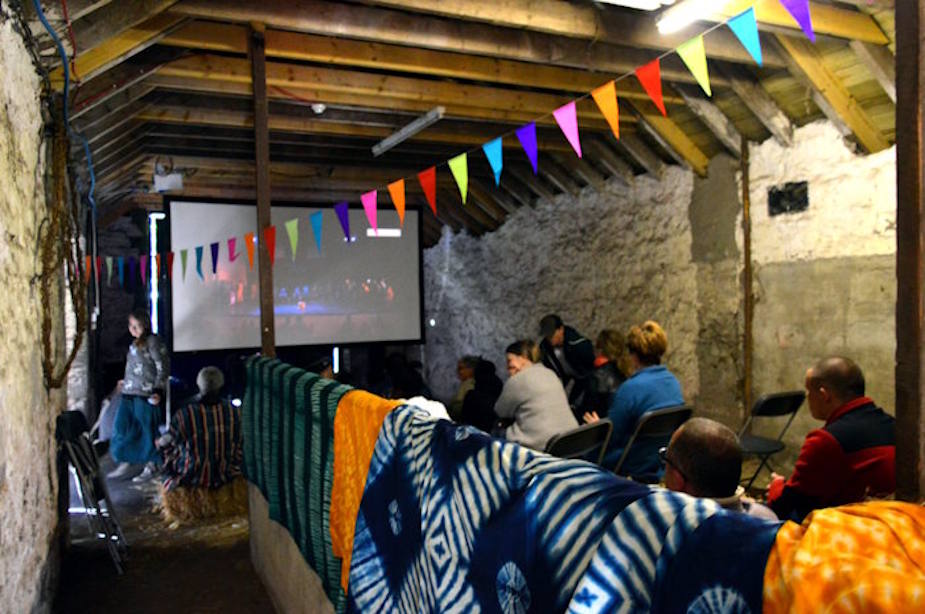 Photo: Sita Pieraccini
Ha Orchestra
Ha Orchestra, the first African symphonic orchestra in the UK, taps into the vast unexplored treasures of musical cultures and values of Africa and the African diaspora. Founded by Gameli Tordzro in 2014, the Orchestra performed at the Glasgow 2014 Commonwealth Festival, playing in major venues including Kelvingrove Band Stand, Glasgow Green, The Merchants Square and BBC at The Quay.
The Orchestra's international musicians are based in 10 different European and African countries and play a range of African and Western instruments that you won't normally hear played together. Their colourful costumes are designed and made by Naa Densua Tordzro.
At the Solas Festival in Perth, the musicians of the Ha Orchestra performed a full set, played the music for Broken World, Broken Word and also delivered two workshops on the various African instruments they play, including drumming, woodwind (flutes and whistles) and strings (Kora, Seprewa, Kamale Ngoni), for both adults and children of all ages. Workshop participants were offered the unique opportunity to try the amazing instruments.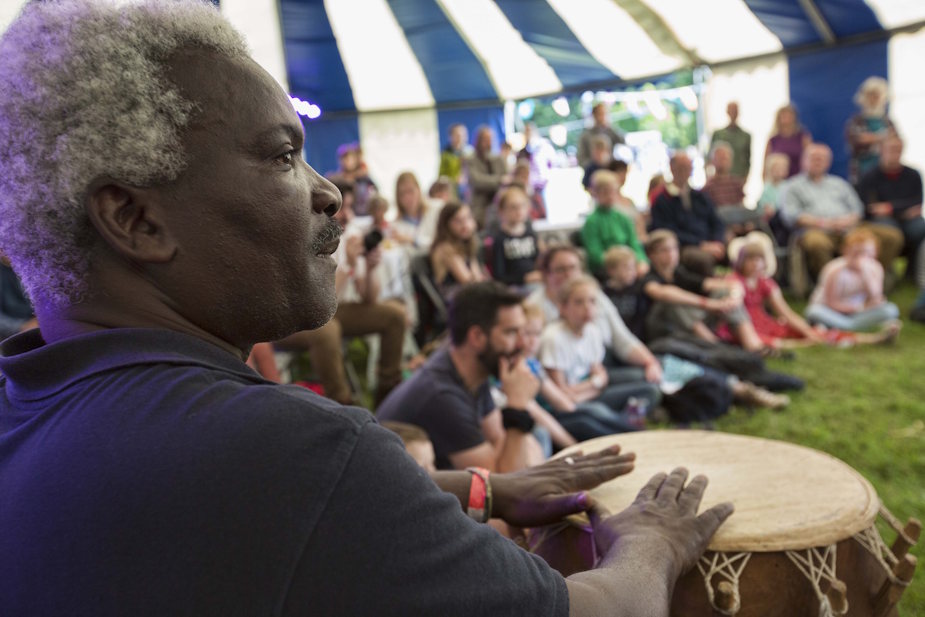 Ha Orchestra music workshop
Photo: Karen Gordon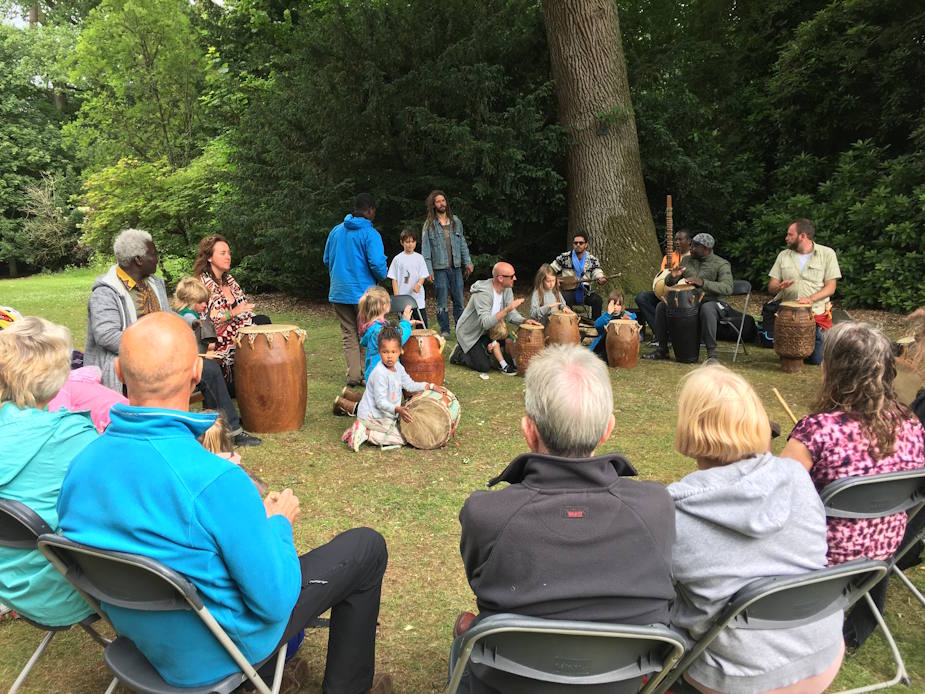 Drumming workshop with the Ha Orchestra
Photo: Alison Phipps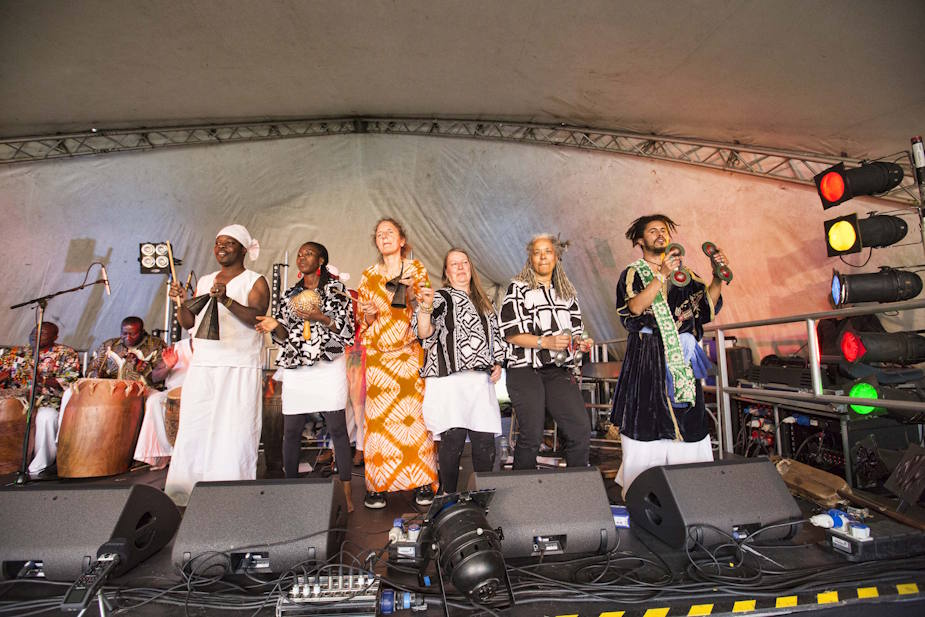 Ha Orchestra providing the music for Broken World, Broken Word
Photo: Karen Gordon
Alison Phipps in the Home Tent
Alison Phipps curated a session on the theme home with speakers from a range of international backgrounds and with experience of offering hospitality. How do music, languages affect how we feel at home? What are the objects that enable us to make home on the move? How do times away from home, both forced and chosen affect our understanding of where our homes are made. And how do we know when we are at home?
Tie-dye workshop with Naa Densua Tordzro
In this workshop, Ms Naa Densua Tordzro tought participants about printing techniques with the use of Ghanaian Adinkra symbols. These symbols are an important cultural heritage of Ghana and they were used to create meaning within the activity. While printing, the participants were given the opportunity to reflect on their own cultural heritage and beliefs.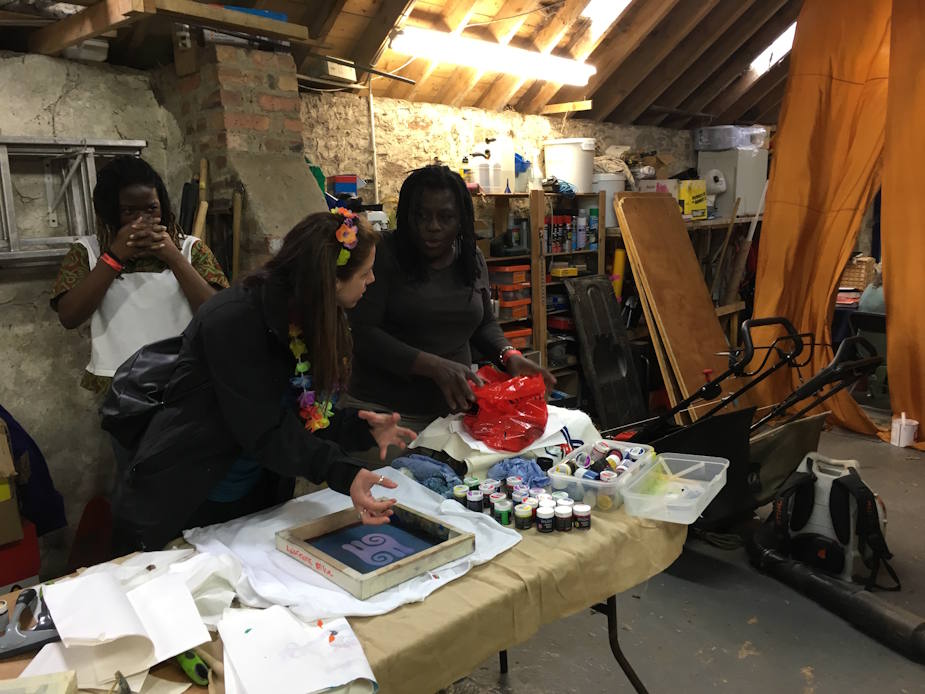 Naa Densua Tordzro teaching at her tie-dye workshop
Professor Charles Forsdick
Professor Charles Forsdick, specialist on the Haitian Revolution and former co-director of the Centre for the Study of International Slavery, talked about the histories of slavery and the role of the resistance of the enslaved in abolition and emancipation. He explored the legacies of slavery, and the ways in which the historical phenomenon continues to shape contemporary cultures and societies. His talk also addressed questions of memorialization and reparation, and considered the extent to which there are links between previous antislavery movements and their modern equivalents that have achieved many successes, including new legislation, changes to company supply-chains and increased public awareness.
Creative writing workshop by Tawona Sitholé
UNESCO Chair Artist in Residence Tawona Sitholé delivered a creative writing workshop, open to people from all backgrounds and of all ages.
Dance workshop by Noyam African Dance Institute
Noyam African Dance Institute spent two hours teaching us how to dance. Participants were invited to learn moves from various African dances and were encouraged to create their own dance moves.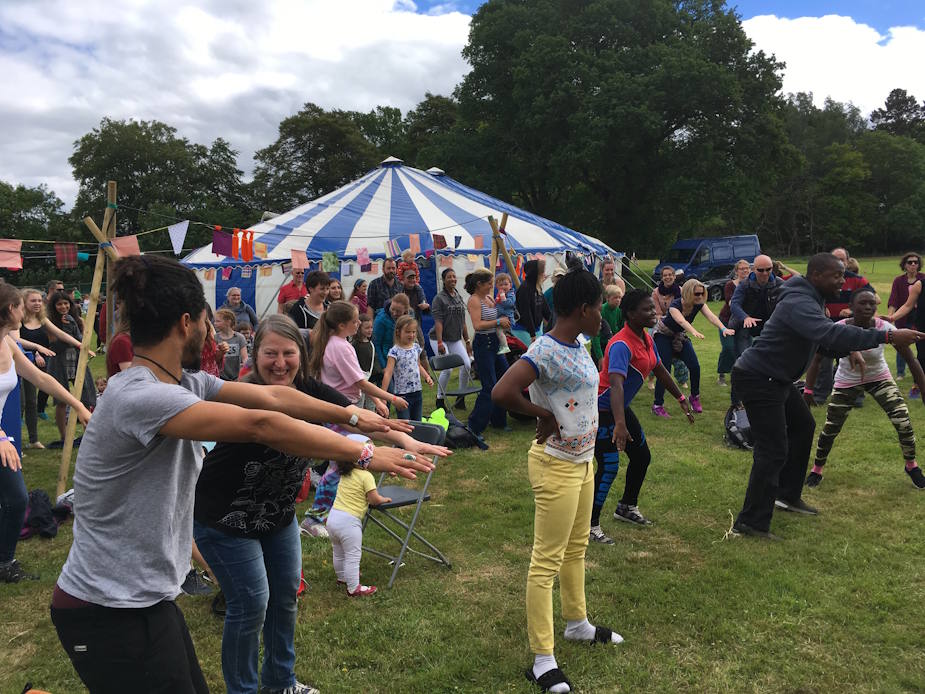 Photo: Alison Phipps
To fund their dance productions and classes, Noyam had a stand where they sold their own handmade tie-dye cloth and various other Ghanaian products.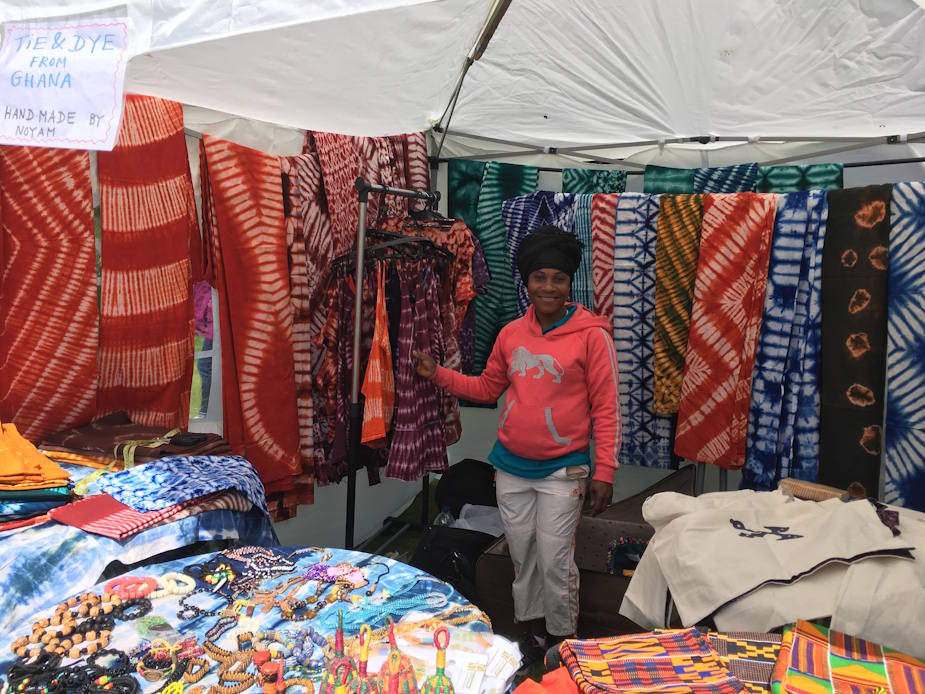 Photo: Alison Phipps
Alison Phipps repeat of UNESCO Chair Inaugural Lecture
The University of Glasgow has been invited by UNESCO's Director General to join its prestigious universities network and establish the first UNESCO Chair in Refugee Integration through Languages and the Arts. The Chair is being held by Professor Alison Phipps and is the first UNESCO Chair to investigate Refugee Integration, worldwide, and to include artists in residence.
This lecture was a repeat of the UNESCO Chair Inaugural Lecture, which took place at the University of Glasgow on World Refugee Day, 20 June 2017. It explored the role language and arts play in societal integration and the creative processes at work in intercultural encounters. It also offered a critique and development of existing understanding of integration and explore new possibilities. The lecture involved the work of Gameli Tordzro and Tawona Sithole, artists in residence with the UNESCO Chair, as well as extracts from Noyam African Dance Institute's show Broken World, Broken Word.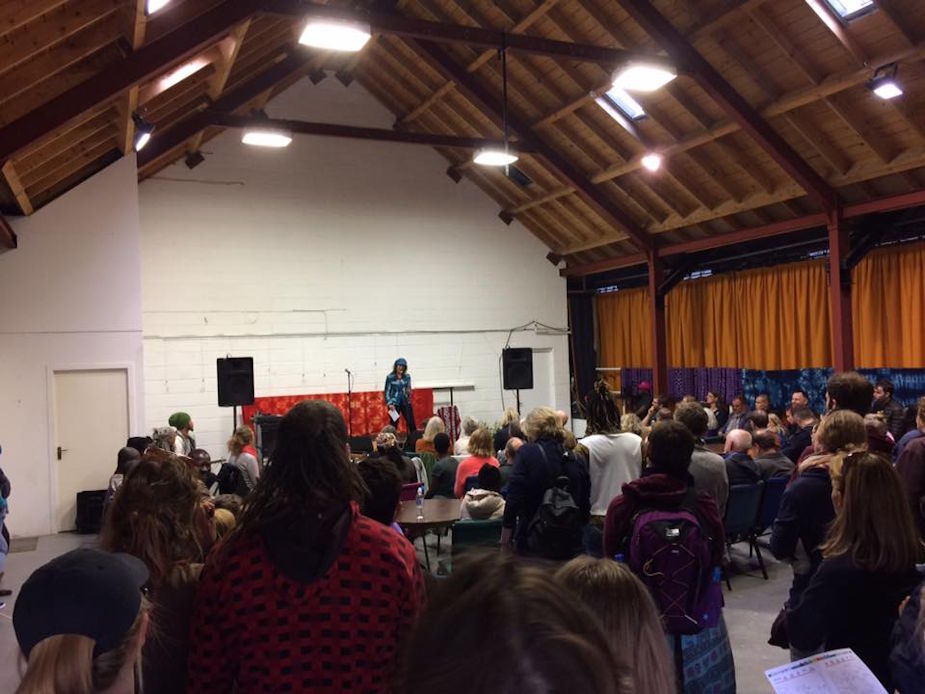 Alison Phipps at the repeat of the UNESCO Chair Inaugural Lecture
Photo: Bella Hoogeveen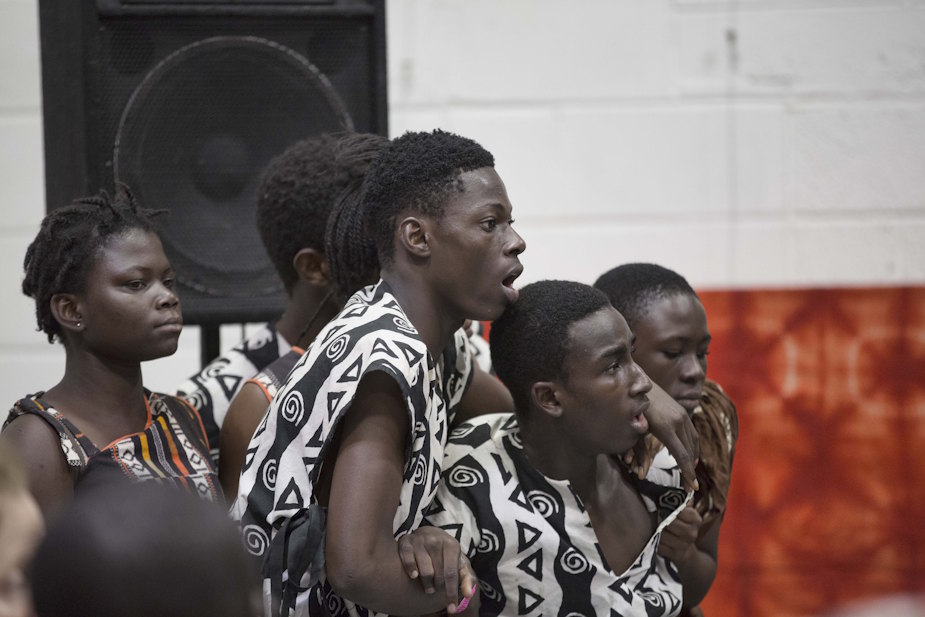 Noyam African Dance Institute performing at the repeat of the UNESCO Chair Inaugural lecture
Photo: Karen Gordon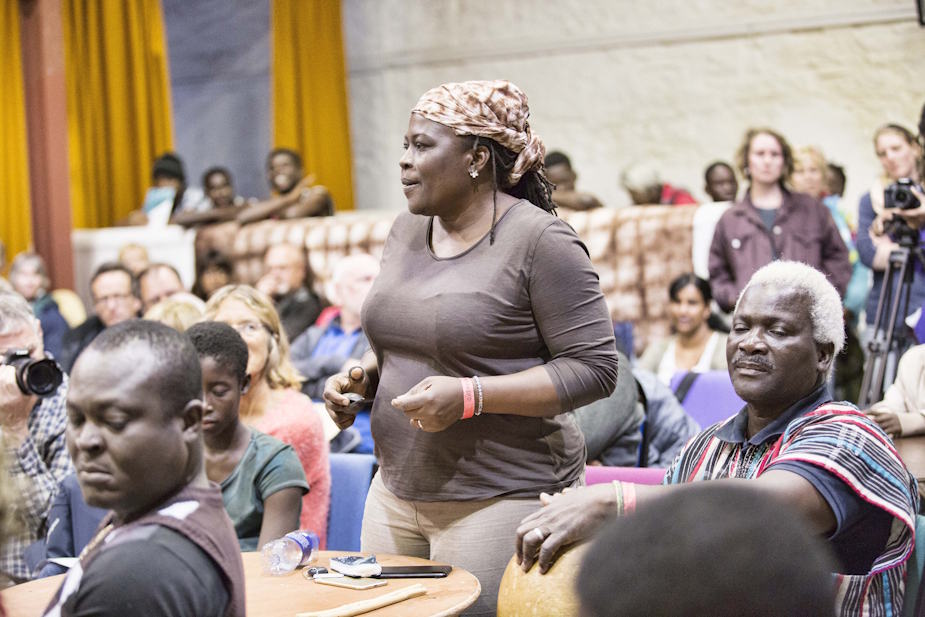 Naa Densua Tordzro performing at the repeat of the UNESCO Chair Inaugural lecture
Photo: Karen Gordon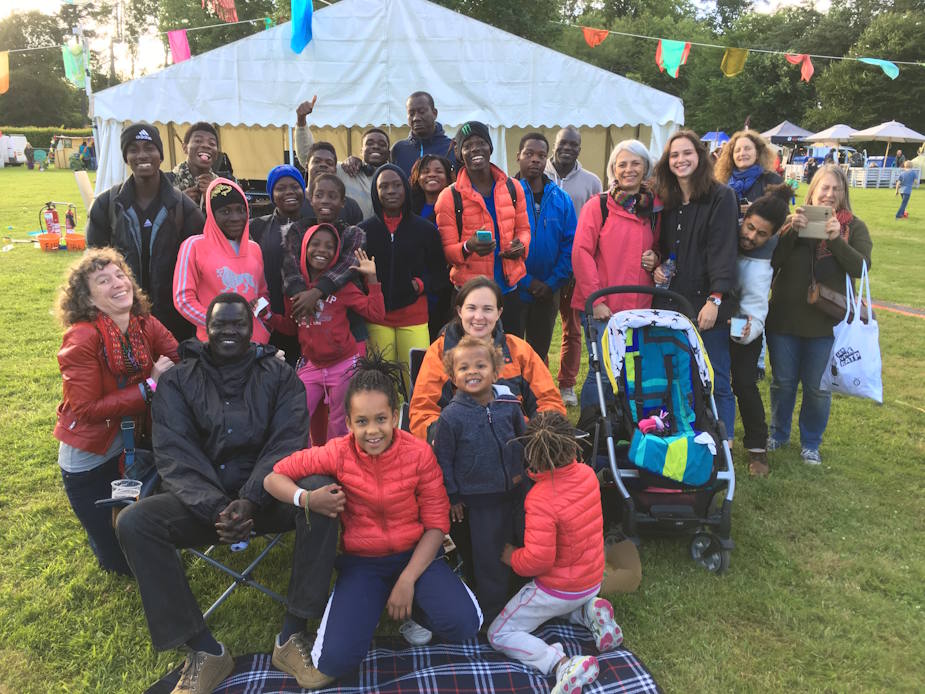 Noyam African Dance Institute and friends at the Solas Festival 2017
Photo: Robert Swinfen