Links and resources from previous Centre for Sustainable Solutions events
Centre Events Series
Centre Events Series
See the links below for recordings, photos and other content from these events.
Engineers Without Borders Panel Session: Centre for Sustainable Solutions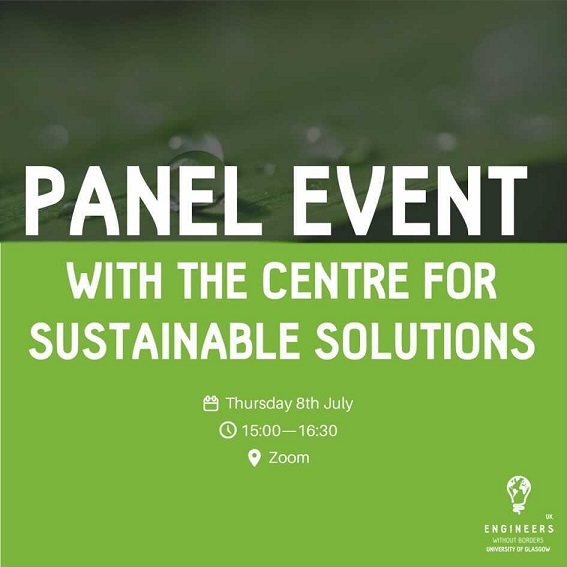 The Engineers Without Borders group at the University of Glasgow presented a virtual panel event for students on Thursday 8th July 2021 (15:00-16:30 BST), focussed on the work of the Centre for Sustainable Solutions. Speakers included Sarah Currier, Centre Coordinator, giving an overview of the Centre's activities in research, teaching and learning, and partnerships within the University and more broadly with industry, government, and civil society, followed by a deep dive into the contrasting work of two Centre Associate Directors: Prof Gioia Falcone, Rankine Chair of Energy Engineering; and Prof Deirdre Shaw, Professor of Marketing and Consumer Research. There were then opportunities for students to ask questions and discuss their ambitions for their own careers, and for our planet.
A recording of the main panel session is availale here. Passcode: Xmj3$1XE
Agenda:
Introduction from EWB Glasgow (15:00 – 15:15) - welcome and overview of EWB.
Sarah Currier (15:15 – 15:30) – overview of the work the Centre does.
Prof Gioia Falcone (15:30 – 15:45) – her work on sustainable energy solutions, what the University is doing, and what we can do.
Prof Deirdre Shaw (15:45 – 16:00) – her work on consumption ethics, what the University is doing, and what we can do.
Short break (16:00 – 16:05) – audience can think of questions, breakout rooms can be set up.
Breakout rooms (16:05 – 16:20/25) – audience will have a chance to ask questions to speakers in breakout rooms.
Thanks, final thoughts & summing up (16:20/25 – 16:30).
The Carbon Conundrum - SAGES & Centre for Sustainable Solutions Panel
From greenhouse gas to soil sequestration, understanding the role of carbon is central to the climate change conversation. A fundamental process is the carbon cycle, the biogeochemical mechanism by which carbon is exchanged among the water, land, atmosphere and organisms of the Earth. But how does it move between being a sink and a source, where in the landscape are our greatest stores, and how can we use this understanding to engineer climate solutions?
SAGES (The Scottish Alliance for Geoscience, Environment and Society) and the Centre for Sustainable Solutions delivered this virtual panel on 7th June 2021, as part of the #SAGESStories event series, to enable the general public, including young folk from 12+ years old and the not-so-young, to find out more and take part in the discussion, learning from scientists across Scotland who are delving deeper into the carbon cycle. The Centre was ably represented on the panel by our Director, Prof Jaime Toney.
A video recording of the event is available below or on the SAGES previous events page:
Green Recovery Dialogues
Glasgow City Council and the University of Glasgow's Centre for Sustainable Solutions, together with Policy Scotland, partnered in November/December 2020, on a series of three Green Recovery Dialogues intended to progress a just and sustainable recovery from COVID-19. Some fascinating short videos prepared by expert participants are available here.
The Dialogues were active discussion events that mobilised the academic and practitioner communities, identifying common issues and potential solutions, paving the way for collective impact on challenges posed by climate change. Participants identified practical steps that can be taken now, or in the near future, offering senior leaders options to consider.
Proposals from the Dialogues were then presented to a Senior Leadership Round Table on 12 February 2021. Watch this space for further news on outcomes.
EARTH OVERSHOOT DAY 2020
The University of Glasgow partnered with SEPA, The Herald and the Global Footprint Network on a series of webinars and a newspaper supplement section to mark Earth Overshoot Day 2020 (Saturday 22 August) - the day when humanity's demand for ecological resources and services in a given year exceeds what Earth can regenerate in that year.
Centre Director Prof Jaime Toney appears as a speaker in the 'Earth Overshoot Day global launch' and 'Choosing our future by design, not disaster' webinars, accessible via the first link above. She also wrote a piece on the Centre for the Herald supplement, at the second link.